Women's tennis looks to improve on 2013 season
Suffolk University's women's tennis team is back in full swing as they are three games into the 2013 season. It has been a rocky start for the Lady Rams starting out 0-3, but they will still have plenty of conference games to try and make it to the postseason.
Senior tennis player Stacey Politis is not troubled about their first two loses of the season, and appears confident about the Lady Rams as a tight and more experienced group.
"I feel that each year we get closer and stronger and we only lost one senior from last year and gained three new girls this year," said Politis, from Saugus, Mass. "We feel more comfortable and know how everyone plays. We build on our strengths and work on our weaknesses."
The only senior the Lady Rams lost was Kelly Conrad, who played 13 matches as the first slot going up against the best each college had to offer. It would appear that three of the six starting slots for singles matches are going to be held by seniors including Politis, Allison Weisenbach, and Lizzy Arkins.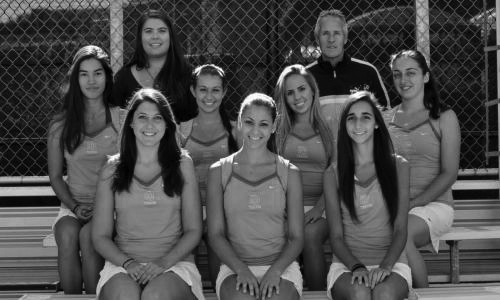 Every match is going to be tough this year for the Lady Rams considering that they only have four matches on their home court the whole year.
"We're pretty bummed we only have four home games because we love our home courts and they're indoors versus the outdoor courts a majority of other schools we play have," said Politis. "We have our own routine on the van whether it be a 30-minute trip or a two hour trip. I'm big on traditions and we have a couple songs we always listen to pump us up. All the traveling isn't ideal but we always put up a fight and leave everything out on the court."
Arkins, who played the second singles slot to open the season, understands the importance of the matches as the season goes on and conference games stack up.
"The first two matches of our season were a bit rocky," said Arkins. "We are adjusting to some changes in the lineup and working with our three great additions to the team: Karina Lakhman, Abby Trigilio and Lyndsay Reese. Conference matches will be incredibly important for us, and I believe that with our two first matches out of the way, we are ready to take on Johnson & Wales."
Coach Couihan has been successful that past couple of seasons keeping the Lady Rams in the hunt for the postseason.
The season is still very young, so now is not the time to hit the panic button. "Our preseason was a great start for us, everyone came in shape and ready to go," said Arkins, from Melrose, Mass. "Coach combines match-play with practice drills daily to prepare us for matches."
Leave a Comment