Barney Frank receives award from Ford Hall Forum
"The Ford Hall Forum values the First Amendment," the organization's executive director Jennifer Bonardi said, "That's why we let everyone who attends the forum ask unscreened questions." The Ford Hall Forum, sponsored and hosted by Suffolk University, is meant to provide a platform for ideas to be discussed by experts and members of the community alike.
Recently, the forum presented its annual First Amendment Award to Former Congressman Barney Frank. "Barney consistently chose to be the voice of those who had none," Helen Rees, the president of Ford Hall Forum's board of directors, said as she granted Frank the award, "His support for First Amendment trumps his personal agenda."
Frank answered prompts from moderator and Newton Mayor Setti Warren that covered everything from Guantanamo Bay to Citizens United to censorship in public libraries and on the Internet. The always outspoken politician expressed serious thoughts on today's political and social landscape, but never without his quick wit and humor.
"You are not a believer in the First Amendment if you have not defended a very obnoxious person to say hateful things. I'm late because I just taped O'Reilly [Factor]."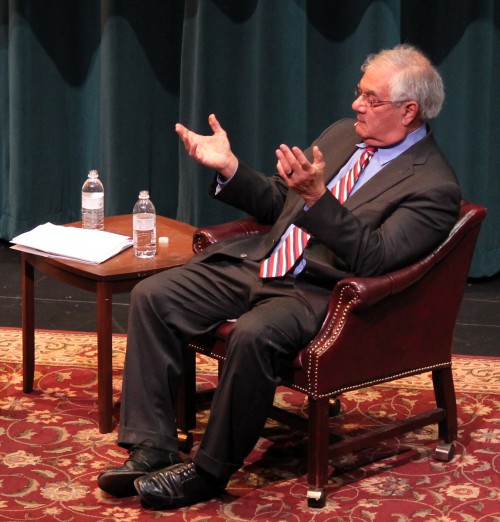 Frank spoke about being one of only three House members to oppose the Fallen Heroes Act which would have restricted protests during funerals, about supporting Mayor Warren and the town of Newton when they defied an FBI request for library records, and countless other times he defended the First Amendment during his 31-year tenure in the House.
But after discussing how the Boston Marathon bombers allegedly learned to make bombs from instructional YouTube videos, Frank signaled support for limited censorship on the Internet.
"I think it's perfectly reasonably to ban people from dangerous, violent things but with the Internet it is virtually impossible," he said. When asked how he would craft legislation like that, Frank didn't miss a beat: "I don't know. I don't look at the Internet much because I don't care where my friends had lunch. Technology has overcome me. A forum to talk face to face rather than Facebook to Facebook is refreshing."
In the second half of the event, audiences members were invited to ask Frank questions. While, as any politician would, Frank had fans and foes step up to the microphone, he allowed everyone to say their piece and took every question seriously–even if others may have dismissed some of the more heated inquiries.
"It's a good thing they deny it rather than defending it," Frank said in opposition to one of the forum attendees comments about Republican strategies, "Hypocrisy is the sign that you know you did something wrong."
The Ford Hall Forum will start back up in September with a new schedule of event topics and speakers.
"The more different kinds of people who attend the forum, the more it helps the conversation," Bonardi said. "When the community gets to hear students' thoughts it is so enlightening for all of the adults. Suffolk students always enrich the conversation when they come out to the forum."
Leave a Comment