Loren Benjamin, songwriter and singer from New York is currently stepping into his very first tour, taking the time to travel surrounding cities in an initiative to see what else the world has to offer, while having fun and meeting new faces along the way. Just recently celebrating his 24th birthday, Benjamin visited Cambridge's All Asia as a part of his sixteen stop northeast tour.
"This is my very first tour but I have been playing in New York for about two years. We've played in so many venues all throughout New York, I've decided to see what's happening outside of New York City," said Benjamin of his recent tour.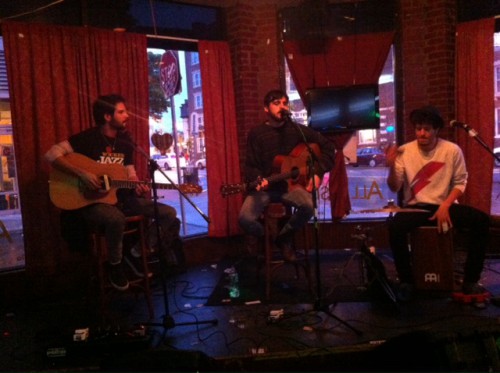 The polka dot lighting was reflecting onto the hardwood floors changing from blue to green to red and then back to yellow. With a silent samurai film playing off in the distance, All Asia made for the perfect atmosphere to hear Benjamin's tunes on a cold Friday evening. Even among the chatter in the small and scattered venue, the songs performed by Benjamin like "Find Somebody'" made for a soothing rainy night.
"We've been doing acoustic sets for about a year now. On the guitar is Sunny and Cozy Levy plays the Cajón," said Benjamin, "I think the instrument comes from Peru."
After moving from New York to Israel at a young age, Benjamin has been exposed to working and producing many different types of music.
"We've been playing and recording and really enjoying what we do, so we figured this was the next step. We definitely wanted to see what else is out there," said Benjamin.
It wasn't difficult to tune out the Boston sports fan goers while the energy was very subtle, being such an intimate venue there was no way that the listeners in attendance could avoid tapping their fingers and feet. Benjamin even had a fan of his music drive three hours just to check out his music live at All Asia.
"I knew I wanted to do music for a while. In Israel I was a songwriter writing music for other people," said Benjamin while revealing what inspires his music. "Picking a favorite song would be difficult, it's like picking your favorite kid."
The members of Benjamin's band each displayed different personalities through their appearances, varying from Vans to vintage-looking oxfords, and even Benjamin wearing his brown boots unzipped while he strummed away on his guitar.  You can tell that these guys all have different personalities, just looking to play a few tunes together.
After strumming a few songs Benjamin crosses his legs and casually states, "This next song is called lonely boy."
Loren Benjamin carried the essence of a modern day young Bob Dylan in his Greenwich village days, playing his authentically written songs whole-heartedly while wearing his unzipped brown boots despite the evening's running sports event playing on the television above the bar.
"I just start playing piano or guitar, I usually just start with my guitar and hope something comes along," said Benjamin on his originally made tunes, "I really believe writing a song is a special kind of work. It just doesn't come, you have to work at it and grab it."
The two different essences of the occurrences happening at All Asia on this evening, made Benjamin's set that much more unique, truly showing his young talent. Covering a Foo Fighters track, Benjamin added a lovely acoustic twist to the famed tune that made for a sweet surprise in his set. Loren Benjamin's music can be found on his website, along with a few great performances on YouTube. Benjamin presents the perfect acoustics and sweet summer sounds that you have been searching for.