Men's tennis falls to Ramapo College in GNAC final
If there is one thing to know about Suffolk University's athletic program, it's this: the men's tennis team has historically performed well.
The Rams won four consecutive Great Northest Atheltic Conference (GNAC) Championships in a row prior to this year, which asserts their place as Suffolk's premier sports program in recent years. Suffolk's squad has been one of the best in the northeast for some time though this year was a different story. The Rams lost in the GNAC final to a very strong and well-playing Ramapo College of New Jersey. The Rams lost 5-4 in a true thriller of a match. This was the first time in five years that the men's tennis team did not win a GNAC championship.
Ryan Chevalier, who in the 2014 season will play his junior year with the Rams, has never lost a championship in his college career until this year. He has already one title to his name, and went undefeated for the Rams in the 2012 season. The Rams might have lost the GNAC final this year, but they still beat the one team that has always been the other serious contender for the GNAC title.
"It felt great to beat Emerson even though it was not the GNAC championship, but the GNAC North championship. The Emerson game was definitely the highlight of the season, because no one expected us to win be. We lost to them 9-0 earlier this season. Another highlight was the Wentworth game in witch we were down by four matches and then ended up winning the match 5-4. Best comeback I have ever seen in college tennis." said Chevalier.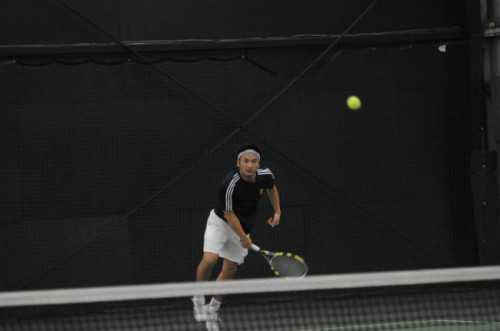 "Its always good to beat our arch-rivals Emerson, but I still can't understand that we lost to Ramapo College in the GNAC final by one point in one match. That was a tough one."
Chevalier knew early on that a .500 record would not be good enough for the team. That's why, when they entered the playoffs with a 7-6 record, the Rams did not hold back and went all the way to the finals to beat Emerson 5-3 to capture the GNAC North title.
"Next year, I am looking forward to end my college tennis career in style by winning the GNAC Championship and go to the NCAA tournament. We have a great team and on a good day we can definitely beat Ramapo College, so things are looking good. It would be great if we recruited one or two players to have more depth in the team also."
Still, four titles in five years is a great result. It all could not have been done without Rams coach, Steve Counihan.
"Coach Counihan is a great guy. He is a fantastic athlete who once beat Ivy league schools like Harvard and he has been in the game for 50 years now so he has a lot of experience," praised Chevalier.
The Rams will have to wait a whole year to see if they can get a fifth championship in six years.
Leave a Comment