The Winners and Losers of the NBA Trade Deadline (spoiler: nothing happened)
Chris Frangolini  Journal Staff
The NBA trade deadline ended Thursday Feb 21 at 3 p.m. with no significant blockbuster trades. Here are the winners and losers:
Winners
Golden State Warriors: Golden State traded forward Jeremy Tyler to Atlanta and guard Charles Jenkins to Philadelphia in "separate salary-shedding deals." The Warriors entered the day $1.2 million over the salary cap and dealing the two player's combined $1.5 million salary brings them under the luxury tax.
Boston Celtics: The Boston Celtics traded an injured Leandro Barbosa, who is out for the season with an ACL tear in his left knee, and the 34-year-old Jason Collins for shooting guard Jordan Crawford. Crawford was drafted by New Jersey in the 2010 draft and has averaged 13.3 points per game in his career. He has already improved the Celtics roster by bringing some youth and scoring ability-what the Celtics lack-so they a have a legitimate shot at winning a title.
Milwaukee Bucks: The Milwaukee Bucks acquired J.J. Redick from the Orlando Magic in exchange for Beno Udrih and Doron Lamb. Orlando Magic general manager, Rob Hennigan told ESPN "As we evaluated all our options leading up to the deadline, we made the deliberate decision to go ahead and make this move because we feel like it sets us in a direction that we're trying to go, which is to create something that is sustainable," Hennigan said. "At the end of the day, we liked the Milwaukee deal because we felt we were able to get back some players that addressed some needs for us. We got some players we feel fit the timeline we're trying to put together to create a competitive window." The Bucks are looking to make a deep push this year after missing the playoffs for the second time in a row last year, and with the help of Monta Elis and Redick the Bucks are deep at the shooting guard position.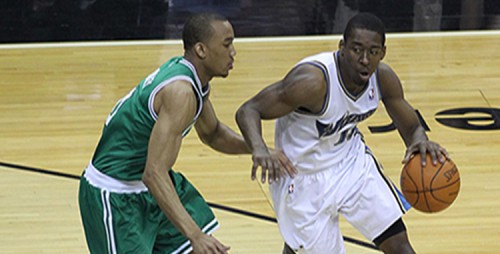 Losers
Memphis Grizzles:
When you trade your leading scorer and leader (Rudy Gay) you're an automatic loser. Gay has played 10 games in Toronto, with the Raptors, leading them to a 7-3 record and averaging 21.4 points per game and 6.8 rebounds per game. Oh, and by the way, he has hit two game winners in that same span.
Los Angles Lakers:
Don't we see the same drama unfolding again? That same drama we saw with Dwight Howard in Orlando? The Lakers are a loser for not trading the big man. We all know the outcome to this Hollywood flop, and being that Dwight controls his own future he is in the driver's seat and the Lakers are going for a long ride.
View Comments (3)