Lady Rams continue success into final week of the season
A blizzard is not going to slow the Suffolk Lady Rams, but it will cost them a game. Their conference game against Simmons has been postponed until Thursday, which means the final week of the regular season will feature three games, each being every other day.
After a milestone of a week for Jacqueline Vienneau, she is not going to let a blizzard get in the team's way of winning. The Lady Rams plan to finish the season strong going into the final week, and players like Vienneau know how important rest is.
"I think Nemo was a good thing for us as a team, because of the storm, we were able to get a couple days off from basketball to relax and get our legs back," said Vienneau. "This was beneficial to us at this point in the season because this is the time when everyone starts to feel tired and run down. We are now able to approach this final week of games with fresh minds and bodies."
As the Lady Rams had the weekend off, it gave Vienneau time to appreciate her accomplishments. The biggest milestone that Vienneau hit was surpassing 1,000 points, but maybe even more impressive, having 500 rebounds as a guard. The third milestone was her 300th assist, and assists from Vienneau are the key to winning games.
"It was very exciting for me to achieve these milestones, probably one of the best feelings I have ever felt," said Vienneau. "Basketball is my passion and something I love very much so achieving these accomplishments has made me feel that my hard work has paid off."
The Lady Rams are a potent threat for the other GNAC teams, and going into the postseason, every team will hope they do not have to face Emmanuel or Suffolk.
The Lady Rams play late Tuesday against Mount Ida, then will play their make-up game at Simmons. They will then continue to the final game of the season, on the road against the No. 1 team in the GNAC, Emmanuel. If they go undefeated or if Emmanuel loses a game, the Lady Rams could capture the No. 1 seed for the postseason.
"We are very excited for the final week of our season," said Vienneau. "We have the chance to take first place in our conference if we go 3-0 this week. Our plan is to take one game at a time and be as best prepared as we possibly can be."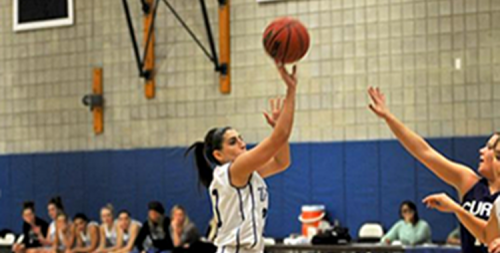 View Comments (2)