Women's Tennis White-Hot Entering Playoffs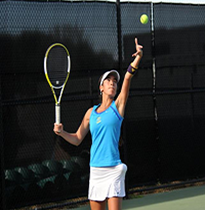 In every sport, all that matters for a team in the end is winning. For the women's tennis team at Suffolk University, they are going into the playoffs with a winning mentality.
The Lady Rams head into the playoffs on a four game win streak, their longest streak of the season. In the past four games, they have a total match record of 35-1 among all their players in singles and doubles play. They won back-to-back games this past Thursday and Friday, beating UMass Boston and Albertus Magnus. The wins not only bump up the Ram's record to 7-7, but they are now 4-4 in the conference.
Senior captain Kelly Conrad won her match this previous Friday in both singles and doubles. Conrad and Erica LeBlanc recorded their fifth win on the season in doubles play. The best doubles duo this season is the combination of juniors Melissa Chermely and Stacy Politis, who have seven total wins on the year.
Now, the Lady Rams will go on to face the second seed Johnson & Wales University in the GNAC quarterfinals playoffs. The Lady Rams have previously lost 6-3 to Johnson and Wales this season back in September.
LeBlanc, who did not lose any of her single or double matches, is confident going into the playoffs.
"This was definitely what we hoped would happen," said LeBlanc, a sophomore, and second year on the tennis team. "It was a strong end to the regular season and gives us a great jump to power through our next match."
The matches are single elimination in the playoffs, so it is a win or go home situation when the Lady Rams play Johnson & Wales
"We definitely know this won't be an easy match," said LeBlanc. "Last year, Johnson & Wales was our first playoff game and we lost to them 4-5. It's time for some vengeance here."
"We have to boost our game up to a level higher than we have these past four matches."
The GNAC quarterfinals match-up between Suffolk and Johnson & Wales will be on Wednesday, October 17th
Leave a Comment