Web Exclusive! First Posting: In the Shadow of Duomo
Ciao! Benvenuti a Firenze! Home of DaVinci, Dante, and the Medici Family. Where ancient palazzi and statues inspire awe against the green hills of Tuscany and distance gray-blue mountain ranges. Famous churches, galleries, and shops line every step of the narrow cobblestone streets and only foreign tourists and students fit in the surrounding piazze.
Or so it seems, after a day spent bartering with an English-speaking vendor at one of the many outdoor markets and conquering the line of elderly couples wearing fanny packs at the Duomo. Florence's beauty and rich history make it a hot spot for worldwide tourism, a large American ex-patriot community, and hundreds of international (read: American) university students.
In the midst of all these foreigners and ancient tourist attractions, it can be easy to overlook the contemporary, local life—but that's a big mistake.
Any given city in the world has beauty and history to appreciate, so what makes each individual place special and worth living in for a semester? The locals. The everyday life. The unique culture and traditions. I could visit every landmark, shop, and café and never learn a thing about the lives of my new neighbors. The only way to uncover the true lifestyle of the city will be to mingle with and learn from the Florentines themselves.
As a Bostonian, I don't hang out by Paul Revere's house for fun or stop and snap a picture of the State House, so I can't expect to find Florentines while taking photos on the Ponte Vecchio or touring the Medici Chapel.
In a city I barely know, without friends or family, and armed with just basic language skills, it was daunting at first to immerse myself in Italian society. Where should I spend sunny summer afternoons? What should I do on a Friday night? Who should I even go with?
By being a study abroad student, you are instantly trapped in a bubble—even if against your own will—of English-speaking, usually quite ignorant American students. You know no one else and have no idea how to break away from the pack. In the planning stages of the abroad semester, I thought it would be easy to avoid the typical and instead find the treasurers of local life. But now a month here has taught me that it can be tough.
The key is accepting that you are the lost, confused foreigner that must adapt. Life in a new country and culture isn't really something you can prepare for.
You just have to endure all the awkwardness of not knowing anything and being alone for a while. After I went through a couple of weeks struggling to adjust, I found that the real way to start branching out is to ask questions.
"Hey, wanna go to the beach tomorrow?"
A simple question to my roommate and the adventure began. We took a last minute day trip by train one morning to the beach with another girl I'd never met before. An hour into the ride, we stopped off in Pisa to see the leaning tower. Surrounded by goofy tourists pretending to hold up the landmark in their cheesy photo ops, I wondered if this trip would end up being worth the €14 rail ticket.
One of my travel companions, a student from Paris, decided that we should stop for lunch at a little hole-in-the-wall café off the main road with the flag of Corsica hanging out front. With her fluent Italian skills, she hit it off instantly with the woman behind the counter. Bonding over shared French heritage, they discussed family, travel, and food, laughing and smiling throughout their conversation. And with the local connection and hospitality, comes the special only-locals-know price: my huge, homemade prosciutto and specialty Sardinian cheese sandwich only cost €1,50.
As we navigated the bus to the beach, and later sought out a good place for dinner, my new Parisian friend again consulted locals for help. Even when we could clearly see the route signs indicating that we were at the right bus stop, we'd still ask whoever was nearby to clarify.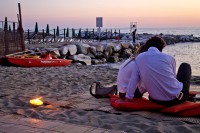 "Does this bus go to the beaches in Livorno?"
"Yes, but the beaches are nicer in Tirennia. It's a few stops closer than Livorno."
The woman on the bus directed us to the perfect beach and a guy there told us about an amazing restaurant further up on the sand with a cheap dinner menu. By continuously asking questions, we not only managed never to get lost, but also learned local tips about the area.
A day that started in tourist land ended in a local's paradise, all because we decided to ask questions and converse in italiano with the people around us.
And, now back in Florence, the typical tourist scene will be much easier to avoid simply by asking a local where to go and what to do instead of following the flocks of my classmates. But I don't want to rely on someone else's fluent Italian skills—it's time for me to break out the flashcards and learn more Italian!
View Comments (2)