Celtics gearing up for one last run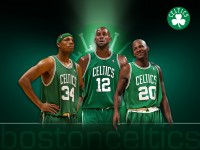 Even though their Big Three are getting old, the Boston Celtics have clinched a playoff berth and are a legitimate contender for the Eastern Conference title.
Yes, I know what you're thinking, how can a team whose three biggest stars are a combined 105 years old (not kidding) be genuine threats for the Eastern Conference title? Well, the Celtics seem to be firing on all cylinders and have all the tools to make another deep run in the playoffs this year.
They have just a couple of games left, all against playoff or contending teams, but if coach Doc Rivers was smart, he would use them sparingly and rest them for the playoffs.
The team has won 21 of their last 29 games entering Tuesday night, including two huge wins against the Miami Heat by a combined 27 points. Going into the All-Star break, the team was floundering near .500 and couldn't get into a set rhythm.
At one point this season, the Celtics were 15-17 and coming off a five-game losing streak, that included two losses to the lowly Detroit Pistons. Since that point however, the team turned it around and has seemingly righted the ship.
Another big reason for the Celtics success has been the play of Rajon Rondo. Rondo has had 22, yes 22 games in a row with at least 10 assists. The way he has been playing has been Magic Johnson-esque, and he has helped propel the Celtics from the eighth seed, all the way into the 3-5 seed range.
If the Celtics finished the season today, they would have a first round matchup against the Atlanta Hawks, a team they have already beat twice this year (the third game will be on April 20.)
Other possible matchups may include the Pacers (the Celtics are 2-1 against them this year), or the Magic (2-0, with one more game coming tonight.)
So don't worry just yet Celtics fans, the team may have one more magical run in them before Pierce, Garnett and Allen trade in their league ID's for AARP.
Remember the improbable run to the finals back in 2010? If the Celtics can keep this up, there's a chance that the streets of Boston may be filled one more time for a parade come June.
View Comments (1)