Change is key for students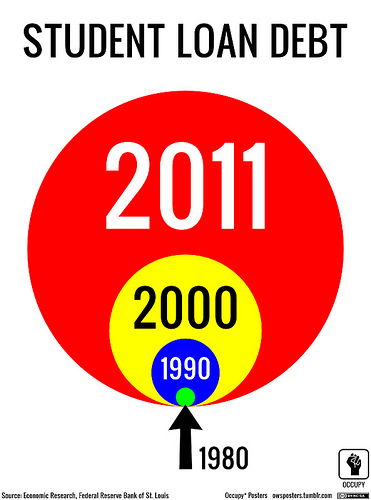 Currently, the average debt for a college student in America is $25,000. This is a record high, and it's still climbing. Last year, $100 billion was taken out in student loans, only to be trumped by the expected $1 trillion this year for outstanding student loan debt.
Could it get worse than this? Unfortunately, yes. Yes it can.
Time Magazine reported that as of July 1, "as many as 8 million college students will see their interest rates on federally subsidized student loans double, from 3.4 percent to 6.8 percent."
Let me reiterate that fact: student loans are going to DOUBLE in interest rates.
Remind me please how this is the American dream?
Growing up, our generation was always told the following: 1. Do well in high school. 2. If you did well in high school, you'd get into a great college or university. 3. You would go to said college or university, study a field you wanted to further yourself in to prepare for the real world. 4. You would graduate and get a job in your field right after.
Laughable now, but it seemed like such a reality back then. Now, on the verge of my own graduation, I'm half terrified of my future. And I'm fully terrified of the money I'm going to have to scrape up in attempts to pay back the loans I've taken out to get that "job" I was told so much about while growing up.
Although there is a lot of angst in this, it's still hard to understand this situation working out as time progresses. Our country is trying to up-right itself, that much is clear. And Congress has surprisingly had the backs of students most of the time.
The Time article does make the viable point that 6.8 percent is still relatively low, especially compared to private loans (ranging around 9 percent to 11 percent), or credit cards, which are well above 20 percent for some people.
Still, the burden weighs heavily. Despite Congress's efforts to keep the interest rates down, you have the institutions dropping the guillotine blade instead. If it's not one, it's the other.
In another Time Magazine article, Santa Monica College had the spotlight shone brightly in their faces for charging students extra to get into "in-demand" classes. The community college has apparently had trouble finding space for students in popular and necessary classes. Instead of creating more classes, the school decided it was the better choice to charge five times the amount of the class, jumping from the current $36 per credit hour to $180.
Really? That's how you want to play your hand, Santa Monica? The rich can afford to move up while the middle/lower class has to wait? How does that make sense?
The scary part is that other institutions could easily follow suit.
It's becoming increasingly clear that most of higher education is putting business before education. And looking at it from a financial perspective, it does make sense. At the same time, is that really what education should be about? It doesn't make it right.
America is at a critical point where it's evolving. Changes are being made left and right; we're an evolving nation that needs to re-adjust what we weigh as important – education being right at the top of the list.
Here we have students graduating with a bachelor's degree with over $100,000 in debt and they sit down and take it without anything but a grumble. Meanwhile, in Canada, there are legitimate riots in the streets over a measly $325 increase in tuition for the next five years. That's a little over $1,600 in five years that they are storming the streets over.
My question is, why do we accept this reality? Why do we accept that vital, prerequisite classes are being quadrupled in price? Why do we accept the 13 percent interest rates we get for private loans? Or the fact that federally subsidized loans are being doubled in interest? Why are we not speaking up, taking action, doing something, doing anything?
Are we lazy? What is it that we can just accept with this? We need to actively search for an answer. Speak up for something. Ask for help. Anything.
How do we progress in this world if we owe banks and the government everything we've worked for? We need something to change in this country and it needs to happen now. With a new presidential election steadily approaching, this is when the country will be looking at issues like this most. We need to seize this opportunity of having the spotlight.
Students, teachers, parents, graduates. Everyone. We need to speak up. Now.
Leave a Comment