Cahill just another example of a corrupt Beacon Hill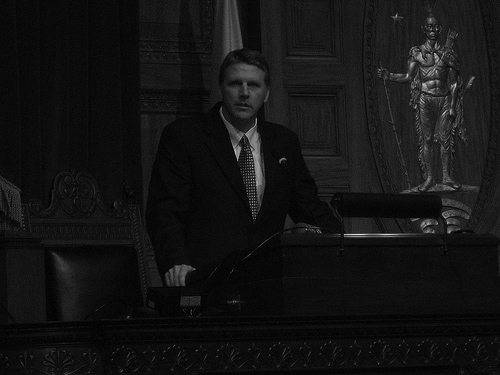 Tim Cahill, former Massachusetts Treasurer and independent candidate for governor in 2010, has been indicted on charges of public corruption related to ads run by the state lottery during his unsuccessful bid for the Corner Office. While the ads never mentioned Cahill by name, as treasurer he was responsible for overseeing the lottery and its success.
In an attempt to highlight his role with the state lottery to help his election chances, the Massachusetts Attorney General Martha Coakley claims that Cahill coordinated with the lottery, whose budget is funded by taxpayer dollars, to run a slew of ads hyping the image of the industry.
Coakley has called Cahill's alleged crime "an orchestrated effort" to aid his struggling campaign by "abus[ing] his position of trust and put[ting] his own political ambition before the best interests of the taxpayers," according to The Boston Herald.
If he is found guilty, Cahill could face up to five years in jail and a $10,000 fine for each count he is charged with. But, despite the high-profile allegations and email evidence leaning the speculators' scales to guilty, Cahill's family asserts his innocence.
Both his wife and daughter took to everyone's favorite public whining forum, Twitter, to try and clear Cahill's growing image of corrupt politician. His wife Tina said in a tweet that her husband was being "persecuted for challenging the status quo." She added, "It's not enough to be defeated you need to be destroyed politically & personally," presumably attempting to equate the recent indictment to some kind of grand conspiracy plot to destroy Cahill for running as an independent.
Cahill's daughter Nicole tweeted, "This is why good people don't get into politics. It's a shame." Maybe she meant that good people are destroyed by political ambitions? Without an "I'm not guilty" tweet from the man himself (although an actual Cahill press conference would be a little more professional to say the least), the tweets from his family don't provide a great defense for Cahill supporters to rally behind.
Since nothing has been proven in a courtroom yet, no one should be speculating on the guilt or innocence of Cahill; but, even for former supporters of the indie candidate in 2010 (including this writer, who was so impressed by his credentials as treasurer that she cast her first ever ballot for him, oops), it's hard to believe that he has no responsibility in the ad scandal.
His potential crime may even seem tame compared to the funding issues that have come up in the on-going presidential campaign with the birth of the Super PAC, but, nevertheless, Cahill's alleged actions may reveal yet another Massachusetts politician continuing the awful tradition of corruption we've seen mature on Beacon Hill as of late.
A statement released by Governor Patrick's office called the allegations "troubling" and Coakley warned that "all elected officials need to be aware there will be greater scrutiny with taxpayer dollars."  It seems that the powers that be are all well aware of corruption problems on the hill, as politicians continue to be indicted and convicted, but still every few months another scandal crops up. And as the senate race between Warren and Brown heats up, who knows what controversy will expose yet another seemingly trustworthy elected official.
Leave a Comment