Suffolk softball has sub-par week, looks to improve record
The Suffolk University softball team had an up and down week, going 3-5.  The Rams were able to sweep a doubleheader against Becker College, but were swept in two other doubleheaders by Great Northeast Athletic Conference foes Lasell and Saint Joseph's (Me.)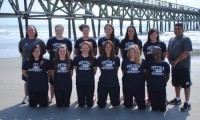 On March 28, the Rams swept two games against Becker by a combined score of 16-7.  Sophomore third baseman Erin McAndrews was able to drive in five runs in the first game, and another two in the second game.  She also collected five hits in eight at bats during the doubleheader sweep.
The Rams lost their next three games as they were swept in two games against Lasell on March 30, and lost the first game of a doubleheader against St. Joseph (Conn.) on March 31.  The team was able to salvage the second game 9-1, with freshman second baseman Alicia Gonnella collecting four RBIs.
The team finished off their weekend with a pair of losses against the second place team in the GNAC conference Saint Joseph's (Me.).
The Rams currently have a 9-13 record, including 3-9 within the GNAC.  McAndrews has led the offensive attack for the team thus far, as she leads the team in RBIs (24), triples (6) and batting average (.394).  On the mound, freshman Sarah Chasse and senior Liz Galvin have been splitting time, with Chasse picking up five wins thus far and Galvin adding three of her own.
Eight of the Rams next 12 games will be against GNAC opponents.  If the team can pick up at least six more wins, there is a good chance they will be in the hunt within the conference, and could potentially make some noise in the postseason tournament.  The youth of the team (eight of the 14 players on the roster are freshmen or sophomores) could prove to benefit the Rams in the stretch run of the 2012 season.
View Comments (2)