Progress is progress, especially with drugs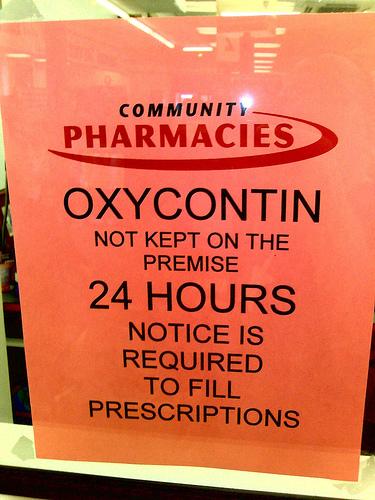 When first reading about the new bill the Massachusetts Senate was pushing through in efforts to beef up state regulations for tracking serious prescription drugs, I thought to myself, "Is this really an issue worth focusing on? Aren't there plenty of other more important things the state's senate should be busy with?"
At least, that's what I thought until I read some statistics about our lovely state of Massachusetts.
According to an article from the Associated Press, Massachusetts ranks the highest for narcotic abuse in the country, especially with drugs such as OxyContin and heroin. Not only that, but the AP's article also said "A report released by a special commission in 2009 found there were 3,265 opiate-related deaths in the state from 2002-2007, and more than 23,000 hospitalizations in 2006 alone. The taxpayer cost for health care, courts, prisons and social services was in the billions, the report said."
Clearly this is a much larger problem than I first assumed it to be.
Initially, I figured focusing on education, job creation, things that would stimulate the economy, would be of higher priority to the state, but the fact that they're pushing this new legislation is huge.
The new bill will make it mandatory for physicians prescribing substances, like OxyContin, to register with Massachusetts' prescription monitoring program. A bill passed in 2010 attempted to do the same thing, but made it only an option to report subscriptions to the program. According to the AP's article, only about 1,700 out of 40,000 doctors registered under said bill. That's a little over four percent. Really? I understand it's not mandatory, but that's why Massachusetts has a gigantic problem with prescription drug abuse.
Honestly, here is where we could change this state immensely. By attempting to solve this apparently massive drug problem, it could help with all of the above. It might help with unemployment rates. It could help get people on track toward a better life. Or at least locate the start of the problem.
According to the AP's article, the bill would immediately focus on "the 30 percent of prescribers in the state who combined are responsible for 90 percent of prescriptions for controlled substances. They would be required to register for the monitoring program immediately, with the remainder of doctors phased in over the next three years."
And the kicker? If these docs don't register, they could lose the possibility of renewing their prescribing license. Now that's what I call incentive.
Obviously, such a bill won't completely solve our problems. I don't even think lawmakers believe it will fix the abuse problems in Massachusetts completely. Drug abuse will always find a way to exist somehow. But it's a start to something. That's what not only this state needs, but what the country needs. It needs motion, or at least some oil to get the gears moving. Everything seems to be a bit stale nowadays, with arguments among parties. Few politicians seem to notice that even a little progress is progress, and bills like this matter.
So looking back, I feel idiotic. Trying to tackle the big issues is important and absolutely necessary to get this country back on track, but it gets to a point where it's overwhelming and ideas are exhausted. A smaller bill like demanding physicians to register the drugs they're giving out (or could be tossing out like candy on Halloween) is a perfect start toward fixing the big problems. And that's what this state, and country, needs.
Chipping away at a mountain for a long enough time will still demolish a mountain. It just takes time.
Progress is progress and that's what I like to see.
Leave a Comment