Infielder carrying early offensive load for Rams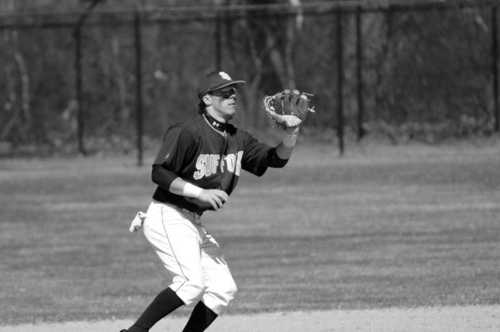 The Suffolk University baseball team may be just one game over .500, but they have had some pretty impressive contributions from their players so far this season.  One of those players, Devan Jones, has been shouldering much of the team's offensive load thus far, leading the Rams in numerous offensive categories.
Jones, a transfer from the University of Maine, has been a bright spot offensively this season, and has already been named to the GNAC Weekly Honor Roll and he was also recognized as the GNAC Rookie of the Week.
"I think all the work I've put in off the field is starting to pay off," Jones said.  Jones's work has been evident in his production at the plate: on March 17, Jones blasted what would turn out to be the game-winning grand slam against Curry College at the RussMatt College Invitational in Winter Haven, Florida.  He credits the time that he's spent practicing indoors and lifting at the weight room to his on-the-field success.
When joining a team as a transfer student, it may be hard to figure out where you fit in and what your role with the team is going to be.  Jones has not had that problem so far this year, and is consistently counted on by the rest of his teammates to be the big bat in the lineup.
"I thought that I had a really good preseason," Jones said. "So by the time we took off for Florida I was pretty confident that I was going to produce."  And produce is something he has most certainly done this season. Through 17 games this season, he is the team leader in batting average (.455), runs scored (22), hits (30), triples (3), runs batted in (17), and is tied for the team lead in home runs.
All gaudy stats aside, Jones is still a team-first kind of player, and wants the Rams to advance far in both the GNAC and the NCAA tournaments.
"Personally, I want to get a hit every time I walk up to the plate," Jones explained. "But what it comes down to is winning, if we don't do that then it doesn't matter what I do. As a team we want to win the GNAC and go to a regional."  He believes that this team is a force to be reckoned with in the GNAC conference and can see them advancing deep in the conference tournament.
Ultimately, if Devan Jones continues his torrid pace, the sky is the limit for the Rams, and the team can easily win the GNAC title and advance far in the NCAA tournament. Regardless, the team has to be happy with what they have seen out of their infielder to start the 2011 season.
Leave a Comment