OPINION: Be careful where you step with your digital footprint
Nowadays, social media is way more complex than what meets the eye. Sure, it can be fun to post aesthetic pictures of your dinner or a night out with your friends, but there are also downsides to this seemingly positive community. 
Someone's digital footprint refers to what they do online, including websites visited as well as emails or messages sent. In this modern-day society, your digital footprint is more focused on what you put out on your social media profiles for followers to see. This could be someone's personal information, a dance or a story posted on TikTok. Even a photo on Instagram can be seen by anyone, including someone you might not want seeing it, such as an employer, parent or a random stranger. 
I believe everyone should have a right to post whatever they choose. However, people need to post with caution and with the knowledge that their posts can be viewed, saved or screenshotted by anyone. There are certain groups of people that should be more aware of this issue, like those who are entering a new stage in their life where background checks may be required, such as applying for a job or even considering adoption. 
In this day and age, it is quite common for employers to fire or not hire an applicant simply because of what they have put online, according to the Robert Half Blog. I think they have every right to do so, but to a certain extent. For example, I don't believe someone should be turned down from a job because they posted dances on their TikTok account. However, if someone's account publicly had inappropriate content, then I think it would be fair if they were not hired for a position. 
Whatever you post, whether it be on Instagram, TikTok or Snapchat, it will stay on the internet forever. It doesn't matter if you archive or temporarily delete a post, there is always a chance someone took a screenshot of your content and has it saved. 
Someone's digital footprint can have a monumental impact on their life, either positive and negative, depending on what comes to the surface first and what is easiest to find. Imagine you finally scored a first date with someone, then they look you up online and don't like what you post, so they cancel the date. People should be more mindful of what they put out of themselves for instances like this, or something more important, such as a job interview.
While I was in the process of writing this, it made me stop and think about my digital footprint, and if it has ever been used in a negative way. Have my seemingly harmless TikTok dances or Instagram stories had an effect on a certain situation? I have private accounts for my socials, but has that stopped a stranger from somehow viewing my content? Social media is a blessing and a curse, it is more powerful than what we know and we should be more aware of this issue.
Follow Tracy on Twitter!
@tracylacara4
Leave a Comment
About the Contributor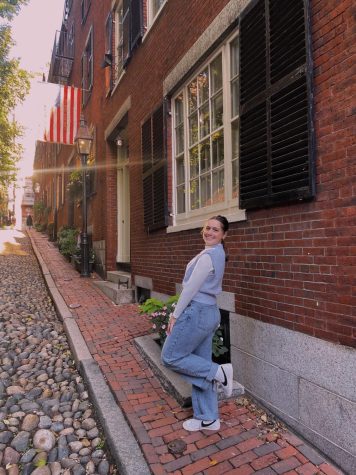 Tracy LaCara, Staff Writer | she/her
Tracy is a freshman from Hanover, MA majoring in broadcast journalism. In her free time, she enjoys spending time with friends, watching Red Sox games, and exploring different parts of Boston. Aside from the Journal, she is also a part of the Taylor Swift Society Club here at Suffolk. Tracy hopes to have a career in sports journalism in the future, working especially with the MLB.