OPINION: The touchdowns and the fumbles of this year's Super Bowl commercials
Even if you aren't a football fan, chances are you still watch the Super Bowl for the advertisements that accompany the game. This has seemingly become a competition for companies to create the most memorable way to promote their business. Super Bowl LVII followed in the footsteps of previous games with some great advertisements. But are the same tropes in these ads getting tired? Or are these template staples in the advertising game that never fail?
One of the most well-received ads was for Popcorners featuring characters from the television series "Breaking Bad." This advertisement recreated famous scenes from the show, calling back to some of the shows most iconic moments, but inserting these references into a conversation about Popcorners.
The show's popularity recently skyrocketed on Netflix, making this ad with beloved characters like Jesse Pinkman and Walter White a huge success. By utilizing beloved characters and moments rather than just the actors, this ad proved to be refreshing.
Other ads featured popular franchises and people, but to seemingly much less success. T-Mobile brought John Travolta and a reimagining of music from the film "Grease" to the screen as a means for promotion. Although the ad featured Travolta and a home internet themed parody of "Summer Nights," it didn't bring anything more than a blank backdrop of a suburban neighborhood. Without any of the qualities that make the beloved movie a classic, the concept fell short.
"Mass-holes" seemed to be prevalent in the ad lineup this year with much success as well.
Ben Affleck and his wife Jennifer Lopez starred in a Dunkin' commercial, where Affleck showcased his Massachusetts roots by brandishing a Boston accent and taking orders at a local Dunkin location, surprising customers in the drive-thru. The upbeat and witty work of Affleck and priceless reactions of real customers made this ad enjoyable, especially for Massachusetts residents.
Samuel Adams also took on Boston stereotypes in a fun and new way. The ad for Boston lager featured "Your Cousin from Boston" and depicted a version of the city with less congested driving, less trash and generally a better attitude. This ad is brutally honest and resonated with the bad seeds of Boston and anyone who has been a victim of someone's bad Boston attitude.
One thing that will never fail to make a Super Bowl advertisement appearance is the furry friends that touch the hearts of football fans. This year had many ads starring dogs, skyrocketing them to success amongst the rest.
Farmer's Dog, a fresh dog food delivery service, was one of the most heartwarming to watch. The ad depicted the story of a dog going from the puppy years to adulthood alongside its family, which is something relatable for all dog owners and lovers. The company was promoting their healthier food options for dogs, an initiative that resonated with audiences and made for one of the most successful ads of this Super Bowl.
Other companies that used dogs in their commercials seemed to be capitalizing off of the soft spot consumers have for animals. This advertising trope has become redundant and obvious.
Amazon used the story of a dog to convey Amazon Alexa's capabilities when purchasing items, as well as the delivery services they provide. The ad featured a family getting a crate for their newest addition to the household. Despite Amazon's ability to provide materials for pet owners, using this story seemed to be trying to replicate the successes of dog advertisements in the past.
This ad's marketing through America's love of dogs was not nearly as blatant as the feature that Miles Teller's dog, Bugsy, got in the Bud Light commercial. The dog was taken out of frame just as fast as he was featured, which seemed like an unnecessary push towards potentially getting more attention from the animal sidekick. These ads fell short in comparison to the success of Farmer's Dog.
Probably the most controversial ad of the year was from streaming service Tubi. This ad began with a clip of announcers for the Super Bowl, then proceeded to show the television exiting the game onto the app for Tubi.
This unique way of grabbing the attention of viewers was definitely effective, as videos online began to surface of entire living rooms being torn apart to find the remote and switch back to the game. Though these videos mostly posted for laughs, service workers like bartenders began to come out online sharing how the ad resulted in verbal and physical abuse from customers.
Even more people came out online, posting on TikTok sharing how family members became aggressive and hostile towards others in the household over the channel being switched. This ad caused several research studies to surface in regards to the heightened levels violence that occur during major sporting events across the world.
This ad has been the most impactful of the year by far, but not for good reason. The advertisement has led to necessary discourse on irresponsible advertising, as well as domestic violence. Tubi's intention was to grab the attention of everyone in front of every television looking to watch the Super Bowl, which it did. The ad demanded attention and as a result directed violence toward others in the wake of the intense game.
Hopefully this fumble on the part of Tubi's advertisers can bring some education to other companies as they begin to plan how best to use their 30 seconds of fame for next year's game.
Bringing something new in the advertising game is definitely welcome, as the classic templates used by recurring brands are beginning to lose their spark. But the methods like that of Tubi would have probably been better traded out for the classic puppy or celebrity endorsement.
The overwhelming successes and flops of this year's Super Bowl advertisement lineup prove that some things definitely need to change in the marketing world, but there is nothing wrong with sticking to the basics as well. Companies who fell behind in the race toward a winning ad this year might have something to learn from the ads with successes stepping outside the box and maybe even those who knew what worked and stuck to that.
Leave a Comment
About the Contributor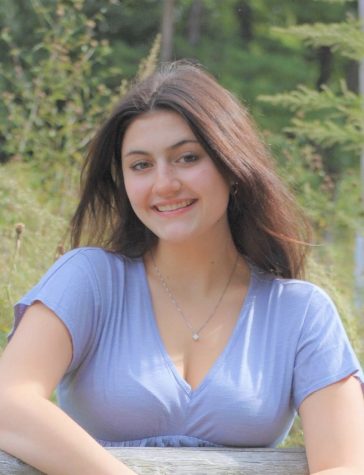 Julia Capraro, Editor-at-Large | she/her
Julia is a sophomore broadcast journalism and psychology major from Canton, Massachusetts. In addition to writing for the journal, she is President of Suffolk Visual Arts Club. She loves cooking, crochet and reading in her free time.