OPINION: Magic in the Garden, both Bruins and Celtics off to a hot start
If you're a Boston sports fan, you're in luck: Both the Boston Bruins and Celtics are currently each dominating their leagues. 
The Celtics currently lead the Eastern Conference with a record of 18-4, and an at-home record of 11-1. The Bruins are also lighting up the ice with a record of 19-3, breaking an NHL record with a current at-home record of 13 straight wins, while also holding the number one spot in the Atlantic Division. For the city as a whole this is undeniably important. Boston is known for its unbeatable sports teams, and we need to keep that objective alive.
If you are a baseball fan like myself, you'd likely agree that these impressive winning streaks are a huge refreshment from the grim Red Sox season, which ended in early October with a historically poor record of 78-84. The New England Patriots are also in season, but are not succeeding alongside the Bruins and Celtics. They are currently last in the AFC East, with a record of 6-6. 
The question is, will these teams stay dominant throughout their seasons, or are they just off to a lucky start.
When it comes to the Boston Bruins, I feel that they will be assertive all throughout the season, as they have key players such as David Pastrnak, Brad Marchand, David Krejci and Patrice Bergeron, who have been continuously forceful on the ice so far. Pastrnak currently has the leading points for the season, at 32, with Bergeron, Krejci and Marchand following suit. Bergeron scored his 1,000th point against the Tampa Bay Lightning on Nov. 21, one of only four Bruins players to achieve this accomplishment. 
Because of these stats, it appears very likely that the Bruins will continue to succeed throughout the season. Their team dynamic is extremely powerful, making them seem virtually untouchable on the ice. 
As for the Celtics, standout players Jayson Tatum, Jaylen Brown, Al Horford and Marcus Smart are currently dominating the court. As of Dec. 2, Tatum is leading the team for most points scored, at 664 this season. If Tatum and his teammates keep this up, they are looking at a strong possibility of a championship win for the season.
The news of their fiery season is reaching overseas, with Prince William and Princess Kate attending their home game on Nov. 30 against the Miami Heat while they visited Boston.
The Patriots, on the other hand, have a lot of work to do if they want to get to the current level that the Bruins and Celtics are on. They are last in the AFC East, and reaching the playoffs seem questionable at this point in the season. With this uncertainty, some commonly asked questions are: "Does Belichick need to go, does Brady need to come back, or do they need to completely start from scratch?"
Not only is this a wonderful time of year for the Bruins and Celtics, it is for Suffolk students as well, as we are just a 10 minute train ride from TD Garden, where all this magic is happening. I believe this is so important for us as students, as we are able to watch sports history being made. Occasionally, we even get discounted student tickets through the Suffolk Student Leadership & Involvement Office, which is something that should definitely be taken advantage of. 
Whether at the top of the league or at the bottom, Boston sports are something all local fans hold near and dear to their hearts. While we would obviously prefer a win, it's the excitement and adrenaline of watching our teams compete that keep us coming back every time.
Leave a Comment
About the Contributor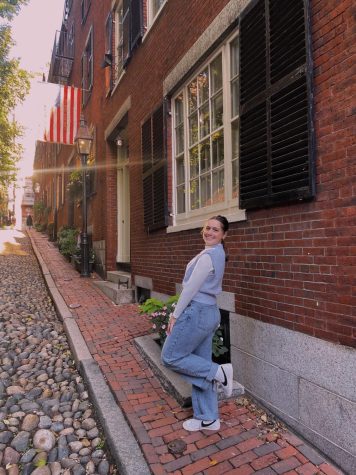 Tracy Lacara, Staff Writer | she/her
Tracy is a sophomore from Hanover, MA majoring in broadcast journalism. In her free time, she enjoys spending time with friends, watching Red Sox games, and exploring different parts of Boston. Aside from the Journal, she is also a part of the Taylor Swift Society Club here at Suffolk. Tracy hopes to have a career in sports journalism in the future, working especially with the MLB.