OPINION: Trend-setters trend downward with FTX
FTX, a cryptocurrency investment trading firm founded by Sam Bankman-Fried, collapsed over the course of eight days in November, leaving hundreds of thousands of middle-class investors struggling to make up their lost money.
FTX has hosted a slew of eager investors and their hard-earned money since 2019. The company recently filed for Chapter 11 bankruptcy after a close relationship with Alameda Research. FTX lent $10 billion of customer investments to Alameda, according to the Wall Street Journal. These funds were deposited for trading purposes.
After news broke that Alameda was in possession of a good portion of FTX's initial investments, Binance CEO Changpeng Zhao sold his holding on the company's cryptocurrency token FTT. Soon after, people attempted to withdraw their investments, but FTX could not reimburse all investors. The company then fell into bankruptcy. 
Tom Brady and Larry David are facing lawsuits over their participation in commercials for FTX following this scandal; seemingly due to deceptive practices perpetuated by the company's choices and the blatant financial misinformation shared in these promotional videos.
FTX's claim to fame was through these big names participating in the promotion of the company. The trading firm had celebrity endorsements from people like Steph Curry, along with David and Brady. In the aftermath of the FTX scandal, there has been much confusion and anger toward the celebrities who encouraged their followers to invest in the company and its nondescript business practices.
In the midst of a financial crisis, there is a rush for people fearful of their financial stability to make money fast. The average person investing in cryptocurrency of any type believes the market is a way to ensure a source of income that is new and promising. 
Brady can actively put part of his large earnings into companies like FTX without feeling the consequences as harshly as those without the hefty cushion of an NFL salary.

Celebrities who work with cryptocurrency companies are a new landscape for customers to navigate. Cryptocurrency is new to everyone, so the education of the general public on what it means to invest in such is far different than the knowledge consumers have on other financial services.
The celebrities who promote cryptocurrency are in the same boat as the rest of people when it comes to their knowledge. They have no concrete idea of what the future of cryptocurrency may hold since no one has experienced it yet. No one could have predicted a downfall as monumental as that of FTX. 
While one can try and blame the rich and famous for promoting shady business practices, it's hard to hold them accountable for something they did not cause. While the endorsers will not suffer greatly from their losses, they are still victims of greater business malpractice. The actions being taken against Brady and David will hopefully show other celebrities that they should be more critical of the companies they endorse, doing more research to ensure the legitimacy of who they engage in business with.
Furthermore, the results of FTX's choices on the average consumer will hopefully invite more critical decisions from customers when engaging with marketing materials. Companies are always looking to increase their sales and celebrities are looking for a paycheck. As consumers, we should think critically about what a company is trying to sell to us and whether or not a celebrity endorsement equates to quality. If a celebrity wasn't taken at face value, the malpractice ongoing with FTX may have been unearthed to their investors sooner.
The concept of expectation versus reality is often specific to products and services. The expectation was that cryptocurrency would bring wealth to the middle class and the reality is that the benefits cryptocurrency promised are not all they are chalked up to be. The world is built around getting customers to see the expectations in all their unwavering promises, but acknowledging the reality of our consumer landscape can ensure you don't fall victim to the same fate as FTX investors.
Leave a Comment
About the Contributor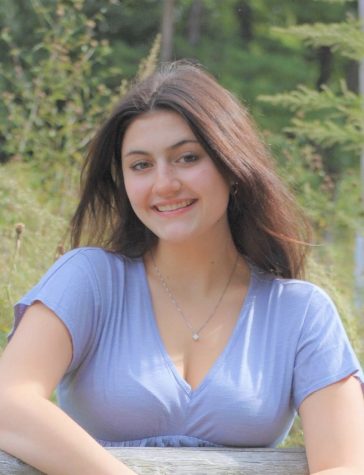 Julia Capraro, Editor-at-Large | she/her
Julia is a sophomore broadcast journalism and psychology major from Canton, Massachusetts. In addition to writing for the journal, she is President of Suffolk Visual Arts Club. She loves cooking, crochet and reading in her free time.