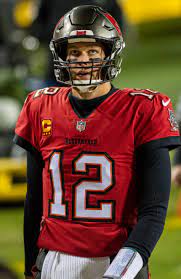 Just because Tom Brady unretired doesn't mean his talent did too. His third season with the Tampa Bay Buccaneers is laced with bad luck. 
The Bucs have fallen to five losses this season, which is a new low for the GOAT. On top of that, he and Gisele Bündchen have recently split up.
When the team isn't making Brady look good, he lets them know he's unhappy. He has now broken two Microsoft Surface NFL tablets in fits of frustration and has also yelled at his offensive line. 
Brady tricked us all by announcing his retirement in February, only to return 40 days later.
"We've got a hell of a team, I'm still feeling pretty good and an arm is a terrible thing to waste," said Brady in a TikTok video.
If Brady is still feeling pretty good, his team shouldn't be at five losses, and he wouldn't be using his arm that he's so afraid of wasting on damaging NFL property. 
The problem is that Brady has been thinking about football for the past 23 years of his life. Ending his legendary career and having to think about anything else and move on is a terrifying thought for him. So if he's physically able to push that feat off for a little while longer, then why not? 
Even if that means having to end his marriage.
"You focus at work when it's time to work, and then when you come home, you focus on the priorities that are at home. All you can do is the best you can do. That's what I'll just continue to do as long as I'm working and as long as I'm being a dad," he said to Jim Gray in their podcast, "Let's Go!"
In the week two Bucs versus New Orleans Saints game, they were only down by three in the second quarter when Brady started yelling at them on the sidelines. 
He also started an argument on the field mid-game, but when it turned physical he walked away. The fight led to his teammate, Mike Evans, getting ejected from the game, according to ESPN.
He couldn't even get through week two of his 23rd NFL season before erupting.
The whole world has its eyes on him as he deals with a divorce that his love for football evidently caused. He's crumbling under the pressure. 
While Brady has definitely worked extremely hard to get himself to the position he is at today, he is starting to ruin his image tremendously with his behavior. His entitlement is starting to outweigh his talent. 
He shouldn't have come back, it was his time to retire. When he left the Pats and Bill Belichick behind, he proved to football fans everywhere that he doesn't need Belichick in order to succeed. He won a Super Bowl with the Bucs in his first season in Florida.
If he continued his retirement he would've left the NFL while everyone still thought of him as the prodigious Brady he was for the majority of his career. But now when he leaves, people will most likely remember the man he became in his third season with the Bucs. 
But that would just make too much sense for Brady, and as we all know by now the last thing he is, is predictable.
"Brady is still the GOAT (Greatest Of All Time), but he is also an old goat, the high school hero who's still living on the glory days while the rest of us have gotten on with our lives," said Dan Shaughnessy in a Boston Globe article.
Brady has proved everything there is left to prove. He has seven rings, he has records that are nearly impossible to break and he has even divorced one of the highest paid models in the world for football. 
There isn't much more for Brady to do. He will forever be known as the GOAT of the NFL, but his time of setting timeless records is up.