Ram Supporter, Orientation Leader applications open
The Orientation, New Student and Family Programs office at Suffolk University have opened applications for Orientation Leader and RAM supporter positions for the upcoming year.
The ONSP team at Suffolk, led by professional staff members Director Alexandra Paterson, Associate Director Zoya Quraishi and Assistant Director Theresa Doherty is responsible for running several new student programs, such as orientation and welcome week. 
Orientation provides students with resources they would need during their first semester at Suffolk, and allows them to form relationships with both their Orientation Leaders and fellow peers as they start their college careers. During welcome week, which occurs during the first couple weeks of the fall semester, students can sign up for events that will aid them in meeting new people, while also enjoying food and the excitement of being a new Suffolk student. 
To be an OL or RAM Supporter, students must be enrolled as a full-time undergraduate, maintain a GPA of 2.5 or higher and be in good academic and judicial standing with Suffolk when applying and throughout their time in a position, according to ONSP's website. 
OLs need to be good representatives of Suffolk, but according to ONSP Office Assistant and RAM Supporter Collin Smith this doesn't mean they are picked from the most outgoing students in the room.
"A common misconception I had was that OLs have to be the loudest, most outgoing people at all times," Smith said. "In actuality, in my three years in the program the most successful OLs ranged the gamut, from the most outgoing to the most introverted."
Junior Jasmine Theodore became an OL in the summer of 2021, which she said gave her the confidence and skills needed to become an Orientation Team Leader this year.
"I thought it was a good way to push myself a little bit and I think it's a really good opportunity for you to grow as a person. I learned a lot about myself … I highly recommend it," said Theodore. 
Theodore and Will Woodring serve as OTLs for this upcoming year. As OTLs, they assist in hiring the orientation team and planning for the summer. Woodring is also the assistant news editor at The Suffolk Journal
Being a RAM Supporter is slightly different from being an OL, which includes mentoring students with activities that make their transition to college much smoother. The position requires a full academic year of calling first-year and transfer students on the phone for supportive check-ins, according to Smith. It helps to build oral and written communication skills and provides a foundation for students who are just starting out at Suffolk. 
To be hired for both of these paid positions that do not require a federal work-study, the first step is to attend an info session with ONSP. There are still three sessions remaining on Feb. 24, March 2 and March 10, according to the ONSP section on Suffolk's website. Theodore also said ONSP is able to schedule one-on-one information sessions if none of the scheduled dates work for students.
Filling out an official application comes next, which can be found on ONSP's website as well as in the bio of the office's Instagram account, @suffolkrammy, according to Theodore. Students whose applications are accepted will receive an email from ONSP scheduling an interview in March, and will hear back in the beginning of April if they have been hired.
Doherty, who heads up the RAM Supporter program, said that the position may seem intimidating to some students.
"Taking on any leadership position might appear to be intimidating to students but when thinking specifically about OL, it is a shared team experience," Doherty said. "For both OL and RAM Supporter, there is extensive supervision, time commitments are clearly defined, and there is no surprise workload/commitments outside of the position job description."
Doherty expressed the benefits that RAM Supporters gained from the program.
"OLs and RAM Supporters play a pivotal role in supporting new students by building community and connecting students to resources on campus. While ultimately their role is to help support this transition, the rewards that OLs/RAM Supporters reap from serving in these positions are even greater," she said.
Both Theodore and Smith said the challenges they have faced in their jobs have led to rewarding learning experiences. Although putting yourself out there and committing to either of these positions may seem intimidating, these former OLs encourage students to not feel anxious about the process. 
"I think the challenges are what make each position special," said Smith. "Watching students grow from their first day of orientation to the time they finish their first, second [and] third years has brought me so much joy."
Briana Forgione, a senior at Suffolk, also spoke highly of the positions she has held in ONSP, which include OL, RAM Supporter and Orientation Office Assistant. Forgione said she learned a lot throughout her time in ONSP and that it has improved her communication skills, along with her ability to be a leader.
"Being a part of ONSP has allowed me to dig deeper into my true self and pull out all of my abilities and build upon them, while finding my struggles and finding ways to turn them into strengths," said Forgione. Applications for all positions will close March 13. For more information, Theodore recommends following @suffolkrammy on Instagram. Students can also find details on ONSP's website, as well as their office located, in room 825 in the Sawyer Building.
Leave a Comment
About the Contributor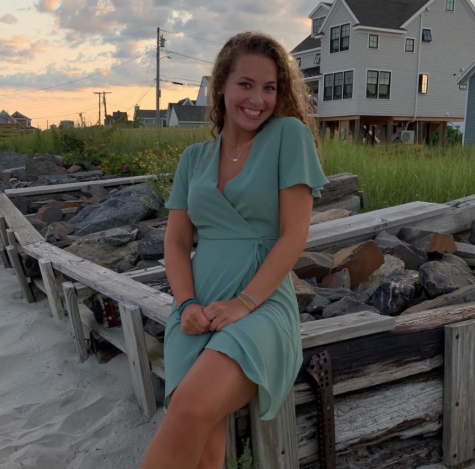 Roxanne Snowden, Staff Writer | she/her
Roxanne is a senior from Litchfield, Connecticut and is a broadcast journalism major. She enjoys spending time with family and friends, going to concerts, trying new restaurants and singing. Different from her small hometown, Roxanne loves being in the city, and one day hopes to work for ESPN and report on the sidelines of an NFL Super Bowl.

Follow Roxanne on Twitter @roxsnowden