Advice for college athletes from a pro
Collegiate athletes can go through a lot of stress trying to balance their school work and their performance in sports, which can make advice from someone who's gone through the collegiate experience into the pros very valuable.
When it comes to sports, people often forget that the athletes have more to them than just their athletic talent, and professional soccer player Tyler Lussi of Angel City FC is a perfect example of someone who was able to go beyond their preferred sport and use their name to create something bigger. 
On top of her career as a professional soccer player, Lussi co-founded an organization called, "The National College Recruiting Center (NCRC)" with her brother, Hunter Lussi. 
The NCRC helps provide experienced guidance and mentorship to student athletes who are committed to playing professionally. 
"We co-founded [the NCRC] in 2017. We really wanted to provide a platform for young scholar athletes and their parents or guardians," Tyler Lussi said.
The app is a texting-based platform where athletes can plan and record things that will help them in their academic and athletic careers. It includes ways to help them study, recover, and how to ask for help, Tyler Lussi said.
"I'm not just a professional athlete. I'm not just a soccer player. There are so many other facets to me," said Tyler Lussi. "I think there's a stigma with professional sports in general where people just look at us like we're just really good at our sport, but actually there's so many other pieces to a person than their sport."
Values often taught in sports, such as teamwork and communication, also remain important when athletes work to accomplish their other goals. 
"We call ourselves 'Team Lussi.' We set our own goals, but it's a team effort," said Hunter Lussi. 
Of course, working with other people while establishing an organization can be challenging for everyone involved, and Hunter was the first to acknowledge that he and Tyler weren't exempt from those challenges.  
"Do we fight sometimes? Absolutely. We're siblings," said Hunter Lussi."But daily communication, that's big." 
Tyler Lussi said that based on her own experience, athletes at Suffolk should find as much of a balance between work and athletics as possible. 
"I learned from a very young age, even before I went to Princeton, how to have a balance with my workload [between] all the sports, other extracurricular activities and the community service I was doing," she said. 
A sense of determination can also go far when trying to branch out from sports. 
"Tyler's a young woman who knows what she wants," said Heather Matheson, Tyler's Lussi's aunt. "She's a beautiful speaker and she's an incredible support to her family, her teammates, and her coaches. She's right there, always." 
It can be stressful when a player is  down on their luck and not performing as well as they're used to. 
Tyler Lussi believes that staying cool and collected can help a college athlete get through challenging times. 
"If I miss a shot or I miss a wide-open opportunity in soccer, the biggest thing is to not react to it. Obviously, you'll want to react, throw your hands up, don't do that," Tyler Lussi said. "Stay calm and know that you're there for a reason. Your abilities have brought you there, your personality and your character have brought you to this point, so stay calm, stay level headed." 
The biggest advice for college athletes Tyler Lussi has is to not let themselves get buried in their low points, but rather rise above them and become better.  
"Make your setbacks your comebacks," she said. "Whether it's missing a shot or dealing with an injury, I think it's an incredible chance to grow and learn. Don't be so hard on yourself, because you know how to play your sport, and when you play with joy and passion and a sense of freedom, that's when you'll get the best out of yourself."
Follow Joe on Twitter @JoeDiminoSU
Leave a Comment
About the Contributor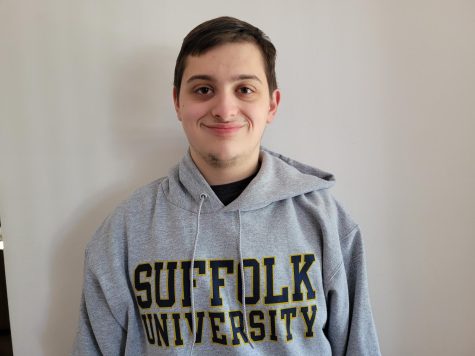 Joseph Dimino, Staff Writer | he/him
Joe is a sophomore journalism major from Revere, Mass. When he has free time, he can be found in Suffolk's VGA room or watching Boston sports. He's particularly a fan of the Celtics, Patriots, and Red Sox! When he graduates, he hopes to become a sports journalist covering Boston sports.