When I began to look at colleges during my junior year of high school, I knew without a doubt I wanted to be in the city. I had never heard of Suffolk University until I toured it –— I literally found it by Googling "colleges in Boston." But as I walked down Tremont Street and approached Sargent Hall for an open house event in Fall 2018, I was in awe.
To me, Suffolk was the city school I had always dreamed of attending: right in the heart of Downtown Boston, with tall buildings and bustling streets everywhere you turn.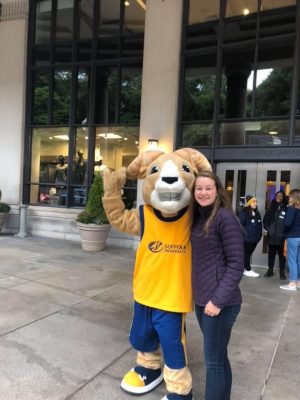 I remember immediately taking a picture with the ram mascot out front (at the request of my mom) and walking into Sargent for the first time, loving how elegant it was. I sat through an info session in one of the lecture halls, went to the major fair where I got to meet some of my professors and toured the 10 West residence hall, where I loved the apartment style dorms. I even met President Marisa Kelly at the end of the event. She was there to greet prospective students and answer any questions we had.
Suffolk was one of the first schools I toured, and after that open house, I never looked back. This university was my top choice, and no other college I looked at after compared. When I was accepted in December 2019, none of the other acceptance letters I received really mattered to me. My heart was set on Suffolk.
I'm a sophomore now, and it's already been three years since I went to the open house and fell in love with the school. I have no regrets about my decision to come here. While over one third of students transfer at some point in their college careers, according to Best Colleges, I could never imagine myself leaving this place. I feel like Suffolk is a good fit for me, and I absolutely love living in the heart of Boston. 
The small class sizes have allowed me to build strong personal relationships with my professors. As promised before I enrolled, the staff here goes above and beyond to help you. One of my public relations professors last year nominated me for a scholarship through the school. The instructor of my Internship Launch! class has reviewed my resume and cover letter multiple times and guided me every step of the way in my internship search, helping me secure one for the first time. 
One of the things that enticed me the most when I went to the open house was Suffolk's study abroad program, and how Suffolk has their own campus in Madrid. Ever since then, I knew I wanted to study abroad, and I'm really excited that I'll be going to Madrid in the spring to do so.
However, given that my first year at college took place during a pandemic, I can't say my college experience is quite what I expected when I said yes to Suffolk. 
Although I love it here, as a freshman I felt as though I was pretty isolated due to COVID-19 in-person limitations. I had no roommates, and I only made a few friends. When I hear upperclassmen talk about fellow peers in their grade and see how many people they know, I think about how I hardly know anyone in my grade. I feel like I only "know" them because we are connected on social media. 
This feeling has carried over somewhat to my sophomore year. I feel like I'm behind on meeting people, and I still have the same small group of friends. I think the pandemic had a significant impact on my college experience at Suffolk, and I'm not sure if it will recover. Will my friend group ever grow more? Will I ever get to experience a semester where COVID isn't lingering in the back of my head? Where masks and mandatory COVID testing aren't a thing?
Suffolk had some in-person classes last year and also held in-person events, two things which allowed me to meet the few friends I do have. I'm really thankful for this, because I think I would feel even more disconnected if Suffolk hadn't done this. I give the university major credit for trying to create some sense of normalcy last year in letting students live on campus and participate in-person.
I lived in the brand new 1 Court Street residence hall, as part of the first group to ever live there, last year. This was essentially living in luxury, with hotel style rooms and a private bathroom. I had a gorgeous view of skyscrapers and could see planes taking off from the airport. This really made my love for Suffolk grow even more.
One thing I remember about being a high schooler and touring colleges is that it can be tough to envision yourself in a new place with a new routine. Change is really hard and something I struggle with. How do I know if I'm picking the right school if I'm having a hard time imagining myself there in the future?
I knew that I loved the location of this school and the vibes of the city, and once I moved in and started living in Boston, everything else just fell into place. I slowly adapted to the change, and now Boston has become a home to me. 
While things may not have turned out quite like I imagined they would, mostly thanks to the pandemic, I still love it here and I'm happy I chose Suffolk. I wouldn't want to be anywhere else.