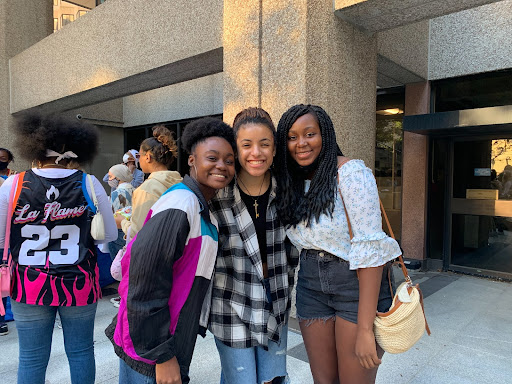 The Black Student Union hosted a 90s-2000s themed block party at Roemer Plaza earlier this month to welcome back students for a social event.
"We want to kick off the semester by reminding everyone to be who they are and express themselves in their uniquely creative ways, and what better way to do that than the early 2000's?" said BSU President Lindsay Dieudonné.
Those who attended the block party, open to members and all students, were able to customize a tie dye shirt, enjoy food, take pictures at the photo booth and play giant board games while listening to music by DJ Gurdy.
Many BSU members were excited to be back on campus in-person and be able to interact face-to-face after a year of being online.
"It's so awesome. After nearly two full years of not being physically around people it's great to be back in a safe way," said Dieudonné. "It's a different feeling when you can laugh with others, find new friends and vibe on campus. I'm pretty sure we've all had enough of Zoom."
Marie Victor, a senior and a member of BSU since her freshman year, expressed her excitement for new members who joined the club this year.
"I remember being a freshman, I'd have to search far and wide for another Black person. But now I don't have to try, because left and right you can see them," said Victor. "It warms my heart that the freshman get to experience this black community."
First-year students, like Erica Smith, Nina Nyonga and Khadija Hussein, are new members who said that joining BSU was an opportunity to find a sense of community and relatability among other Black students at Suffolk. 
"[It's nice] finding people to relate to the experience of how the world is towards us and connecting with others," said Hussein.
Dieudonné also added that her goal this year is to promote Black joy and plans to do that by hosting event traditions like African Diaspora, the Soul Food Luncheon and Black and White Affair. She also describes BSU as a space for Black students on campus to feel safe, heard and celebrated.
"It's a place for allied communities to join in on the love, culture and truth of the Black community," said Dieudonné. "We exist to educate, celebrate and serve our communities. We're not just a club, we're a family. We stand by each other, stand against negativity and stand with our allied communities."