OPINION: Moving to the city from a small town is everything I hoped it would be
I moved to the city for college at the age of 18. I came to Boston bright-eyed and awed at the beautiful city that swallowed me the moment I stepped under its massive buildings. I spent hours with my peers, exploring everything it has to offer and falling in love with the location more every day.
The city exceeds expectations, if you truly want to live there. Moving to the city gives you experience and freedom that is invaluable. Both the pros and cons add to the charm of city life and no matter who you are or where you come from, you will find a community. 
Coming from a small college town, I have always known I wanted to live in the city after high school. I saw a few stores around the local campus and attended the bi-yearly events that the university hosted. Everyone knows everyone and town gossip is one of the few entertainments beyond attending the performances from the adult jazz band every Wednesday night. 
I wanted more options, to see new things everyday and meet new people. The monotony of my town was predictable and uninspirational.
Boston gives me the freedom to make mistakes without the fear that everyone will know and judge me for it. This is important because college is a time for making mistakes, messing up and finding yourself. As a freshman, it allowed me to jump into the "real world" without having to worry about paying rent or cooking. 
Not only is there more diversity in the city compared to a small town, there are also more people in general. According to the Boston Planning and Development Agency, in 2018 there were almost 140,000 students in Boston alone. While my town has about 10,000 people, Boston has a population over 600,000, according to the U.S. Census Bureau. This huge population provides endless inspiration and motivation. People of all backgrounds and experiences bring new ideas and thoughts. 
Also, the city has many job and internship opportunities that can help students get their foot in the door with some major companies and gain work experience while in college. There are many more businesses and organizations in Boston than in a small town. Surrounding campus there is the financial district, theater district, many tech companies and hospitals all ready to gain new employees. 
On the other hand, the city is not for everyone. 
A few months after arriving in Boston, I started to see the crime that occurred out my dorm window and smelt the warm urine left on the Sawyer Building steps. I heard the mice scuttle through my kitchen and after that first text from the Suffolk University Police Department, I realized that the city hasmany dark moments.
If you aren't prepared for the rush of the city, it is easy to feel lost and small. The opportunities available in Boston are only helpful if you take the leap and take advantage of them––a lesson that Boston teaches students very quickly.
Housing is also only guaranteed for the first two years at Suffolk, which means students will eventually need to find a place in Boston, pay the high prices and possibly live in an unsafe area. While it can be scary and intimidating, this allows for a learning lesson and faster life experience. Suffolk also helps students find off campus apartments. 
However, I see the negative aspects of living in the city as a life experience that builds confidence in my own abilities to take care of myself. They also make some great stories to tell your friends and family back home. 
For me, I love the city and find it to be well worth the negative aspects. I am happier with the opportunities here than I would be if I had stayed in a small town. 
I love Boston and wouldn't want to live out of the city, especially for college. 
One of Suffolk University's largest draws is its location in the very heart of Boston. Ask Suffolk why to choose them and it will answer, "Savor daily life in the city as you head to class downtown, hop the T to Newbury Street or Fenway Park, or just relax on Boston Common." 
As an art student and a writer for The Suffolk Journal, I find constant inspiration just on my walk to class. This inspiration keeps me excited and hopeful for the future, even on days when all I want to do is quit. On the weekends, there is always something to do, whether it is hosted by Suffolk or it is an off-campus event around the city. 
There is a feeling of community among all students, even those from surrounding colleges. 
Leave a Comment
About the Contributor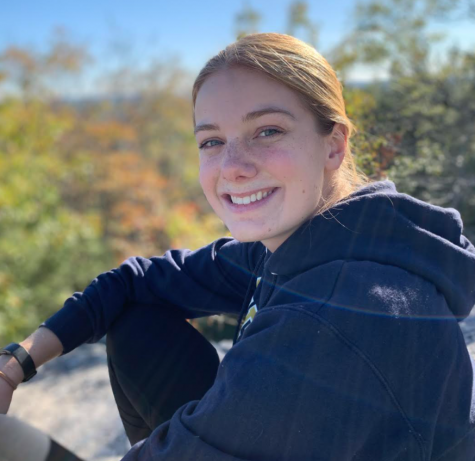 Alida Benoit, Asst. Arts & Culture Editor | she/her
Alida is a sophomore Graphic Design major from Brunswick, Maine. Her passions include reading, writing, listening to music, and playing with her dog, Sirius Black. After graduation, she hopes to work for a publishing company and travel the world.

Follow Alida on Twitter @AlidaBenoit