Volleyball player finishes strong career with Rams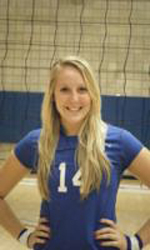 Mike Giannattasio
Journal Staff
Julie Sullivan is going to have plenty of tremendous memories about playing for the Suffolk women's volleyball team. Sullivan is a senior at Suffolk and set the school record with 1,821 setting assists this season.
Sullivan, a setter on the squad, said she was not even aware that she broke the record until the end of the season.
"It wasn't until my senior night that I found out I broke the record when my coach announced it," said Sullivan, who joined the team her freshman year. "It came as a complete surprise and it feels great."
It was more surprising that Sullivan broke the record because she came to tryouts as an outside hitter four years ago.
"I had played every position on the court during my high school and club years, except setter," said Sullivan. "So when I was told freshman year that they were going to train me as a setter, I would have never thought four years later I would break any assist record. It's a great feeling."
Sullivan, who is from Haverhill, MA, and is a graduate of Haverhill High School in 2007, has put up tremendous stats in the last two seasons. During 2009, Sullivan led the team with 42 service aces and 325 setting assists, while earning the Suffolk's Coaches Award for her performance.
This season, Sullivan again put up tremendous numbers, with 46 service aces and 641 setting assists through the team's 32 games. The Rams finished this season with a 13-19 overall record.
Although the team missed the playoffs this season, Sullivan said she was happy that many players contributed for the club.
"The freshman really stepped up the program and made it that much easier for me as a setter on the court, alongside the hard work of our returners who always put in their best efforts," she said. "This season really turned the program around and I hope I can come back and see some games where hopefully the team continues to grow."
Suffolk women's volleyball Coach Heather Cox said Sullivan improved tremendously throughout her four years at Suffolk.
"Julie was possibly the only volleyball player at Suffolk to set in a 5-1 rotation [only one setter on the court as opposed to two] all four years during her college career," said Cox, a 2007 Suffolk graduate who has been coaching in the volleyball program for the last four seasons.
"Coming in as an outside hitter, Julie was asked to set her freshman year and stepped up to the challenge like a true athlete. She got better and better each year and should consider herself among some of the best setters in the GNAC conference."
Cox added that Sullivan has been a pleasure to coach throughout her four years at Suffolk.
"Having been Julie's head coach for her last two seasons and an assistant the two previous years, it has been great to see her develop as a player," she said. "Julie is a true leader both on and off the court. She is organized, regimented, and disciplined and always steps up to a challenge.
"This makes her not only a great athlete, but a great leader, student and person. She also knows how to have fun and is a joy to be around on and off the court."
Sullivan, an international affairs major, chose to attend Suffolk her freshman year because of the great opportunities the city of Boston had to offer. Financial reasons, along with her father being a Suffolk undergraduate and Suffolk Law graduate, also drove her to choose Suffolk four years ago.
"I can say that playing volleyball was not part of that decision, but it was an added bonus that made my decision that much more enjoyable," said Sullivan. "Coming to Suffolk as a freshman, I did not decide I was going to play until about three weeks before the season started.
"In high school, I played volleyball year-round and going into college I really did not want to give up the sport."
Cox said that Sullivan was a pleasure to be around on and off the court.
"Julie's leadership and passion for the game will be greatly missed next year," said Cox. "Julie has always been looked up to by her teammates and respected by her coaches and has a very bright future ahead of her."
Sullivan said she will never forget playing for the Suffolk women's volleyball team.
"Besides my love for the sport, the girls are awesome and through the volleyball team I have made some of my closest friends," she said. "Being part of the team has given me a great college experience and I am really grateful that I have been able to play for the past four years."