Lady Rams return core players, eye conference title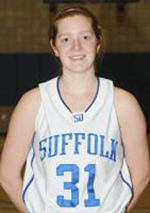 Alex Mellion
Journal Staff
The Suffolk women's basketball team is looking to improve upon last season's disappointing 14-13 finish, and will return many of its core players.  The team finished last year with an 84-56 loss to Keene State in the ECAC tournament. The loss came a little more than a week after a heartbreaking 82-81 loss to Albertus Magnus in the GNAC Quarterfinals.
Junior captain and last year's leading scorer Meghan Black returns, as well as several other core players.  Jacqueline Vienneau, a rising sophomore who started all 27 games for the Rams last season—not to mention being the second leading scorer on the team—will be counted on to provide a bulk of the offensive load this season.
"Our goal is to play hard, play smart and play together," said Head Coach Ed Leyden, who is entering his 17th season as the lead man for the women's team. "Our whole emphasis is team play and fundamental play." Leyden, who is also a four-time GNAC Coach of the Year recipient, has turned the team completely around, averaging 15 wins per season.
The team will face tough competition this season from both in-conference and non-conference teams.
Emmanuel, who won the division last season, also finished with an impressive 11-1 record in the conference and 22-8 overall.  In addition, Norwich and cross-common rival Emerson will be some of the Lady Rams' toughest opponents.
Despite having no seniors on the roster, Leyden is confident that the upperclassmen will take on the leadership role for the team.
Meghan Black, who led the team with 10.8 points per game last season, will serve as the team's lone captain this season.  "The team has demonstrated great heart and work ethic," Leyden said. "They have established a culture here at Suffolk of hard work and having fun at the same time."
Leyden didn't cite one specific player that will be crucial in the team's success, rather saying that they are all accountable for the team's success and will have to function as a whole if they want to contend for the GNAC title this season.
The women's coach is confident that the team will be in contention this season, and has high goals for his Lady Rams.
"Our goals are to have a mindset of putting the effort to get better every day," he explained. "One old saying we believe in is 'inch by inch life's a cinch. Yard by yard is really hard.' It's corny but if we keep it simple, persist, and stick together, we'll be hard to beat and make things very interesting towards the end of the season."
Leave a Comment