The Blessing Barn offers a warm, thrift shopping experience in Beacon Hill
The newest addition to Beacon Hill's retail scene combines the love of thrifting with supporting local charity.
The Blessing Barn, located on Charles Street, opened to the public on Sept. 5 as a new non-profit thrift store in the Boston area.
The store sells thrifted items such as clothing, jewelry, home decor and art. All sales made go back into the community, and Blessing Barn Beacon Hill is keeping their charity local. 
The charitable initiative that the shop funds, "Room in the City," provides short-term housing for patients and their families from Massachusetts General Hospital. Purchases made at the store directly help pay the rent for housing.
"The reason we have our store is so that we can raise the money, raise the funds to fund the rent on those units," said Eylse McCutchen, an employee at the store. "We wanted to have a place that we knew could consistently be available."
McCutchen explained that the housing is completely free of charge, and there are two rooms available through the program within walking distance to the hospital. Blessing Barn is owned by Compassion New England, a non-profit that provides charity in local communities, such as crisis care and The Happy Place – a place to "meet the needs of individuals with intellectual disabilities and families with children with special needs," according to the non-profits website.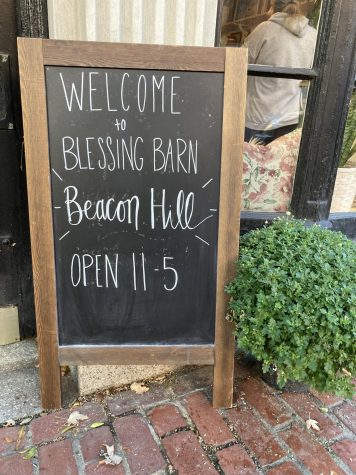 The Beacon Hill location is the sister store to the original Blessing Barn that is located in Mendon, Mass. The four floors offer more variety and furniture for customers, and the majority of items in the Boston store come from this location. With 33,000 sq. ft of thrifting, it is definitely worth the drive.
Opening a business during a pandemic is no easy task, especially as the city of Boston has seen a lull in tourism. 
"We're not able to get involved in our community in the same way we would have been able to previously," said McCutchen. "You can't have as many customers in the store, so that does hurt sales a little bit."
Currently, the capacity inside the store is eight to ten customers. 
Thrifting is also available through Blessing Barn's social media, where shoppers can purchase treasures via Instagram stories @blessingbarn_beaconhill.
The store aims to create a relaxed and calm environment during a crazy time in life. The window displays offer a welcoming and warm fall atmosphere from the outside, and when customers walk into the store, they are greeted by soft jazz music and a calming environment.
"I think a really amazing thing that we've been able to be for this community is a very safe, comforting, relaxing space. We want it to feel like that when you walk in here, it's like a big hug," said McCutchen.
Blessing Barn in Beacon Hill is opened on Mondays from 12 p.m. to 5 p.m. and Tuesdays through Saturdays from 11 a.m. to 5 p.m.
Follow Katelyn on Twitter @katelyn_norwood.
Leave a Comment
About the Contributor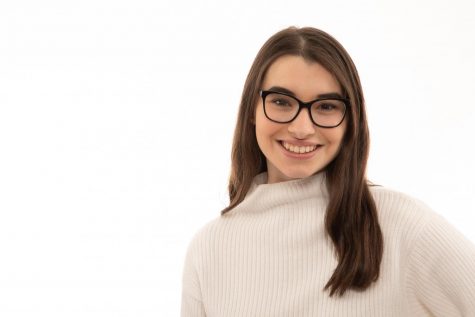 Katelyn Norwood, News Editor | she/her
Katelyn is a senior majoring in public relations and minoring in journalism. When this Massachusetts native is not typing up a storm, you can find her dog watching in the Boston Common, working at Suffolk Performing Arts, and passionately talking about the latest political issue with a hot chai latte. One day Katelyn hopes to be working on the editorial side of the magazine or media industry. She has completed interning with HGTV as an editorial intern.
Follow Katelyn on Twitter
@katelyn_norwood
Email her at
[email protected]