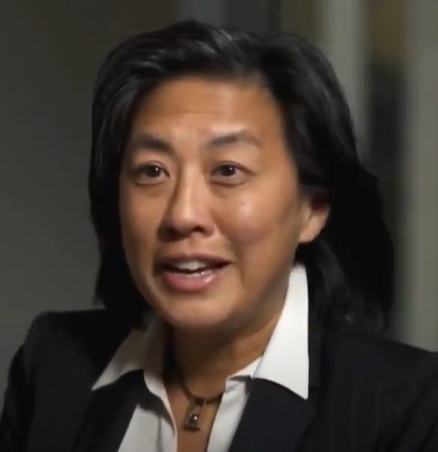 The Miami Marlins made history Friday when they announced Kim Ng as the team's new general manager. Ng now becomes the first women and Asian American to hold a general manager position in any of the major North American sports leagues.
Ng, who is 51, has been involved with Major League Baseball (MLB) for 30 years. She has most recently served as the MLB's senior vice president of baseball operations since 2011.
"All of us at Major League Baseball are thrilled for Kim and the opportunity she has earned with the Marlins," MLB commissioner Rob Manfred said in a statement. "Kim's appointment makes history in all of professional sports and sets a significant example for the millions of women and girls who love baseball and softball."
Ng graduated from the University of Chicago in 1990, where she studied economics and was a member of the school's softball team. 
She first became involved with the league as an intern with the Chicago White Sox in 1990 and quickly climbed the ranks to become the assistant director of baseball operations.
Ng then became the assistant general manager of the New York Yankees in 1998, where she was a part of three world series championships. 
"I was truly excited for Kim when I learned that she had been named general manager of the Miami Marlins. It is wonderful seeing people accomplish their stated goals, and this has been a dream of hers for as long as I've known her," said Yankees general manager Brian Cashman in a statement. "As assistant general manager with the Yankees, she was indispensable to me when I first began my tenure as the GM."
The last MLB team she worked with before Miami was with the Los Angeles Dodgers. There,  she served as the assistant general manager from 2001 – 2011.
"On behalf of principal owner Bruce Sherman and our entire ownership group, we look forward to Kim bringing a wealth of knowledge and championship-level experience to the Miami Marlins," said Marlins CEO Derek Jeter. "Her leadership of our baseball operations team will play a major role on our path toward sustained success." 
Ng is now the highest ranked woman in baseball operations among all of the teams in the league.
"I entered Major League Baseball as an intern and, after decades of determination, it is the honor of my career to lead the Miami Marlins as their next general manager," Ng said in a statement. 
"This challenge is one I don't take lightly. When I got into this business, it seemed unlikely a woman would lead a major-league team, but I am dogged in the pursuit of my goals," she said."My goal is now to bring championship baseball to Miami." 
The Marlins made the playoffs for the first time since 2003 last year despite having a large COVID-19 outbreak among the team. With Ng stepping into the role as general manager for a team that has a talented young core, the Marlins could be a contender for years to come.
Follow Nick on Twitter @NFrieburger