New original Christmas movies and shows coming to Netflix this holiday season
Grab some hot cocoa and your favorite blanket. Netflix has a lineup of new feel-good original movies and TV shows that you'll want to cozy up on your couch and watch during this unconventional holiday season. 
"Dash & Lily" — released Nov. 10
Based on the young adult novel "Dash and Lily's Book of Dares" by David Levithan and Rachel Cohn, the new Netflix original series follows Dash and Lily, two young adults living in New York City. They fall in love through a notebook passed back and forth throughout the city, sharing their thoughts and secrets to each other. 
"The Princess Switch: Switched Again" — coming Nov. 19
In this sequel to "The Princess Switch," Margaret, (Vanessa Hudgens) is preparing for her princess coronation, where she will be betrothed to royalty to try and salvage her friend's love life. Stacy (Vanessa Hudgens) brings Kevin (Nick Sagar) to the coronation to remind the couple of their true love. Throw in a third look-a-like, more princess switching and a parent-trap like plan, this coronation is about to get interesting. 
"Holiday Home Makeover with Mr. Christmas" season 1 — coming Nov. 18
Benjamin Bradley, otherwise known as "Mr. Christmas," goes around the country helping people decorate their homes for the holidays with his design team. The professional interior designer takes decorating very seriously and turns these homes into something straight out of a magazine.

"Dolly Parton's Christmas on the Square" — coming Nov. 22
In this movie-musical, Dolly Parton works to try to save her hometown when an old resident (Christine Baranski) comes along to sell the land just weeks before Christmas. As an angel, the singer tries to remind the woman of the joys and magic of Christmas and tries to keep the town in their homes. 
"The Christmas Chronicles 2" — coming Nov. 25
This sequel to the 2018 film, "The Christmas Chronicles," which is directed by Chris Columbus, is a heart-felt movie that follows a teenage Kate Pierce, who runs away to the North Pole after discovering her mother's new relationship. There, Kate uncovers an elf's plan to ruin Christmas and finds herself on a mission to save the holiday. 
"Dance Dreams: Hot Chocolate Nutcracker" — coming Nov. 27
This documentary follows choreographer and dancer Debbie Allen as she recreates the traditional holiday "Nutcracker" ballet, and turns it into "Hot Chocolate Nutcracker." Allen incorporates different dance styles throughout the show, going beyond the original ballet and works to teach the young kids in her show about female empowerment, self confidence and hard work. 
"Angela's Christmas Wish" — coming Dec. 1
As a sequel to the 2017 movie, "Angelina's Christmas," this movie follows Angela as she works to reconnect her family for Christmas. Based on the book by Frank McCourt, Angela tries to bring her father back home from his work in Australia in time for the holidays. This animated movie is about loving your family and female empowerment.
"The Holiday Movies That Made Us" — coming Dec. 1
The second season of the 2019 TV series, "The Movies That Made Us," focuses on the making of classic holiday movies including "Elf" and "The Nightmare Before Christmas." Taking a look behind the scenes, audiences get to see the history and makings of their favorite holiday movies through interviews and behind-the-scene clips.
Happy viewing!
Follow Alida on Twitter @AlidaBenoit.
Leave a Comment
About the Writer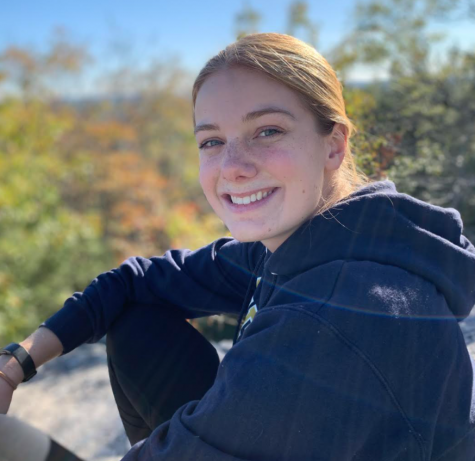 Alida Benoit, Asst. Arts & Culture Editor | she/her
Alida is a sophomore Graphic Design major from Brunswick, Maine. Her passions include reading, writing, listening to music, and playing with her dog, Sirius Black. After graduation, she hopes to work for a publishing company and travel the world.

Follow Alida on Twitter @AlidaBenoit