Protests against SARS shake Nigeria
Protests demanding the end to police brutality have been ongoing in Nigeria for nearly three weeks, and demands from peaceful protesters have been answered with more violence by police.
People have been taking to the streets since October 8, demanding the end to brutality from the Special Anti-Robbery Squad (SARS), a Nigerian police force, according to The Washington Post. 
These protests began after an alleged video showed an officer dragging and then shooting a man in the streets of Nigeria, according to CNN.
This then led the hashtag, #EndSARS, to trend globally, according to The Washington Post.
CNN reported on Oct. 13  that at least 10 people have lost their lives during  the protests, during which unarmed protesters have been met with excessive force such as tear gas and water cannons, Amnesty International told the outlet.
"People exercising their right to protest and calling for an end to police brutality are themselves being brutalized and harassed by those who should protect them," said Anietie Ewang, a Nigerian researcher for Human Rights Watch, according to Human Rights Watch.
SARS was founded in 1992 in order to prevent criminal activity in Nigeria, but has evolved into a controversial unit, according to Independent. Not only have protests over SARS occurred in Nigeria, but also in other  cities around the world.
An Oct. 11 announcement by Nigerian President Muhammadu Buhari responded to protests with the disbanding of the SARS unit, according to Independent.
Although SARS is being disbanded, the unit will be replaced with a Special Weapons and Tactical Team (SWAT), according to The Washington Post. 
According to Human Rights Watch, SARS officers and incoming officers will undergo psychological and medical exams to make sure they are fit to be a part of the SWAT team. 
"The officers are expected to this process as a prelude to further training and reorientation before being redeployed into mainstream policing duties," Mohammed Adamu, inspector general of police, said in an interview with CNN. 
Although SARS has been disbanded, protesters demand more reform for the protection of Black lives, according to The Washington Post.
Reports by Amnesty International have recorded over 80 cases of torture, extortion, rape and other heinous crimes committed by SARS police, from January 2017 to May 2020.
 Victims in this report said they were subjected to "waterboarding, beating, near-asphyxiation with plastic bags, sexual violence," and other injustices, according to The Washington Post.
General people believe the SARS unit specifically targets young people with specific objects, such as laptops, and features like tattoos and dreadlocks, according to Human Rights Watch.
Police continue to use excessive force on protests after the deaths of a handful of people. According to Buhari, while disbanding SARS is a step, it is also one of many steps needed to achieve police reform, according to CNN.

Jimoh Isiaka was allegedly killed on Oct.10 by police when they opened fire in an effort to disperse protestors in Ogbomosho, Oyo state, according to PM News. 
The next day, two more were killed in protests against Isiaka's death, according to an investigation by Premium Times.
Since then, 69 more deaths have occurred at Nigerian protests, according to Buhari.
According to Human Rights Watch, the Nigerian constitution and international human rights law protects the right to peacefully protest. It is unlawful to use unnecessary force. 
"We will also ensure that all those responsible for the misconduct or wrongful acts are brought to justice," said Buhari, according to CNN.
Leave a Comment
About the Contributor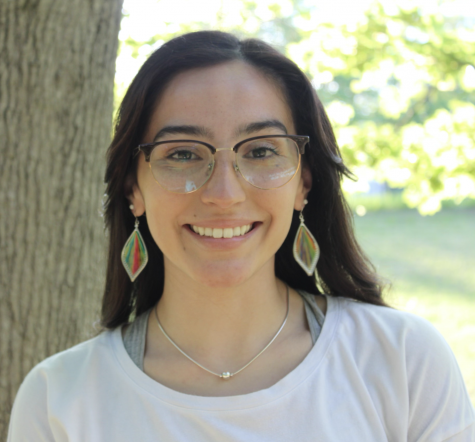 Olivia Acevedo, World News Editor | she/her
Olivia is a senior majoring in print/web journalism while double minoring in advertising and environmental studies. When she isn't sprinting from place to place on campus, she likes to spend her time with her dog and attend sporting events. Olivia is originally from West Springfield, Massachusetts and has a passion for animals and history. 
Follow Olivia on Twitter
@OliviaAcevedo12
Email her at
[email protected]