Suffolk to bring sustainability to Costa Rica in new course
Spring break for the Suffolk University Sawyer Business School will consist of a trip to Costa Rica for the very first time. This trip of a lifetime will be attended by students interested in the course attached to the trip called Sustainability in Costa Rica.
The newest course addition will be co-taught by Bari Bendell, a five-year Suffolk professor in the management and entrepreneurship department. Bendell teaches a business foundations class every fall in addition to a green sustainability course known as ENT-352.
She will also be working with professor of organizational behavior Katerina Gonzalez, a new member of the Management Department.
The Global Seminar program has been around for years, offering students an opportunity to be exposed to other countries and cultures. Students and their peers learn beyond the classroom, delving into international business centers. The exposure gives students perspectives they wouldn't receive anywhere else.
Costa Rica is one of the most prevalent sources of sustainability in the entire world. According to Bendell, the country has made substantial steps towards an all around greener environment.
"It is the only country in the world to reverse deforestation and one of only a dozen countries to obtain 100% renewable sourced energy production nearly every day of the year," said Bendell.
Proving to be a successful landmark working towards change, Costa Rica has become a model for greener practices and solutions. Tourism has increased towards these implementations, allowing the country to flourish.
Despite this being the first year hosting a seminar in this location, sustainability has raised many discussions while intriguing millions everywhere. This trip highlights visiting government officials, different companies and learning why they have become so successful. Bendell believes that adventuring through the country while learning from first-hand experience is unparalleled.
Bendell explained that the carbon dioxide output has been reduced by more than 10% while the gross domestic product of Costa Rica has doubled within the past eight years.However, while there have been improvements, there have also been setbacks.
Bendell explained that the government of Costa Rica is working hard to respect the natural territory and to interrupt the commonalities preventing it from being more sustainable. The government  has also been working with businesses throughout the island in order to protect and respect the land while working with nonprofits to donate to conservation.
Suffolk's program enables businesses to offer advice and lessons to students about how to be eco-friendly in a business atmosphere. During the trip, students and their leaders will examine coffee supply chains and learn how they are grown and exported for others to use, including the U.S.
On this travel seminar, students have a wide range of opportunities to choose from, ranging from hiking through the jungle, seeing a volcano, learning about sustainability and more. In the eyes of Bendell, there seems to be a common factor.
"I think students are drawn to the class because they are very aware that our natural environment is in crisis and they want to learn how organizations, businesses and nonprofits can help. Costa Rica offers such a road map," Bendell said.
Before the trip takes place, students attending are required to meet three times with their leaders. In the classroom, students can become acquainted with one another before the trip begins.
The seminar group will visit Veragua rainforest nature-park to learn the ways of eco-tourism and how the land attracts people. Meeting with large organizations and corporations will expose students to the environmental objectives the country upholds.
Upon returning to Boston, the leaders and their students will discuss their time on the island in the sustainability powerhouse.
Leave a Comment
About the Writer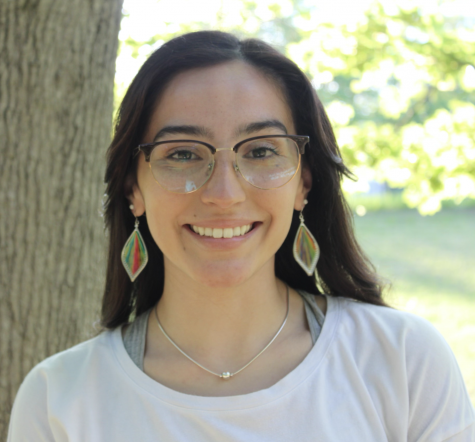 Olivia Acevedo, World News Editor | she/her
Olivia is a senior majoring in print/web journalism while double minoring in advertising and environmental studies. When she isn't sprinting from place to place on campus, she likes to spend her time with her dog and attend sporting events. Olivia is originally from West Springfield, Massachusetts and has a passion for animals and history. 
Follow Olivia on Twitter
@OliviaAcevedo12
Email her at
[email protected]