Fan Fest brings together Suffolk community
This past Saturday, Suffolk hosted its fifth annual Ram's Fan Fest. The event is one of the latest installments in Suffolk Weekend, where students, faculty, alumni and families come together to celebrate their Suffolk pride.
The events began at Suffolk's home field, East Boston Memorial Park at 11 a.m. They kicked it off with Rammy's Fun Run, a 5k for all ages.
Runners paid $10 to participate in the race, with all proceeds benefiting Suffolk's Center for Community Engagement. These funds help assist students who participate in service trips such as Alternative Spring Break.
Junior interior design major Ireland McGreavy participated in the run on Saturday and was more than happy to support the cause. She explained that many college students are hesitant.
"They are constantly giving students the opportunity to travel and gain experience in helping other people, which is so important at this time in our lives," said McGreavy in an interview with The Suffolk Journal. "I don't think that you can put a price tag on that."
Rammy's Run concluded just as the fan fest began, where, at noon, fans were treated to music, drinks, free food trucks and a variety of complementary games and attractions. This included cornhole and a flag painting station. At the same time, the Suffolk men's soccer team warmed up on the field in preparation for their game against Emmanuel College.
"When I went to Fan Fest. I truly felt like I belonged [at] Suffolk University. With our spread-out community it can be challenging to feel that sense of community, but at this event I definitely felt that community," said Student Government Association Senator Marissa Kearney in an interview with The Journal.
Sophomore and Suffolk women's hockey player Sydney Tietz sat in the stands Saturday cheering on the soccer team. For Tietz it was the second time she had attended the fest.
"Fan Fest brought the Suffolk community together with good food, the Rammy 5k and being able to cheer on the men's soccer team in East Boston," said Tietz in an interview with The Journal.
This year marked the first Fan Fest where Suffolk Athletics teamed up with Suffolk CARES. Their office has staff devoted to providing students with the necessary resources to be successful at Suffolk.
"It was a great success," said Amanda McGrath, Director of Student Outreach and Support in an interview with The Journal. "A total of 235 non-perishable items were donated at Fan Fest from students, faculty, staff, alumni and friends of the University. The items were used to restock the Suffolk CARES Pantry."
The Suffolk CARES pantry is a student resource located on the 12th floor of the 73 Tremont Building. It is available from 8:45-4:45p.m. Monday through Friday for students who may face food insecurities. Fans who brought a non-perishable food item to the Suffolk CARES tent were able to receive a free Suffolk Athletics t-shirt.
Despite the events' success, some students thought there could still be ways to improve the event going forward in the next couple of years.
"I thought it would be a really cool idea if they did giveaways at Fan Fest, maybe movie tickets, or Bruins tickets, or if they raffled off Suffolk Swag, that would all get more people to the soccer game," said Kearney.
Despite the loss from the Rams, the Suffolk Fan Fast was a win. This event embodied the true meaning of what it means to be a part of the Suffolk community.                                                                                                   
Leave a Comment
About the Contributor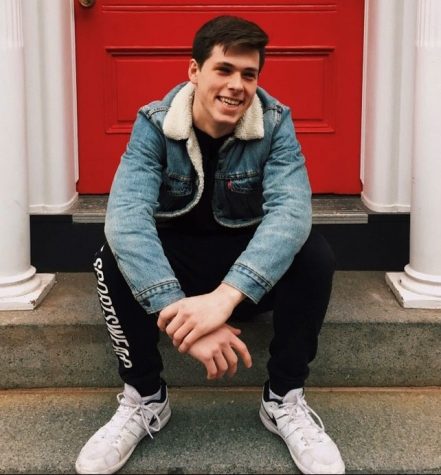 Andrew Laird, Assistant Opinion Editor | he/him
Andrew is a former New Hampshirite majoring in Journalism and minoring in English. When he's not reading or writing you can find him listening to jazz, going to museums and speaking passionately about his travels. One day Andrew hopes to obtain his doctorate in sociolinguistics.
Follow Andrew on Twitter
@The_AndrewLaird