AIESEC event showcases opportunities abroad
The "Journey to Cultural Exchange" event on Feb. 19, put on by Association Internationale des Étudiants En Sciences Économiques et Commerciales, or International Association of Students in Economics and Management (AIESEC) gave students a taste of the cultures they can experience through the organization's global internships and volunteer opportunities.
Founded in 1948 to help prevent international conflicts, AIESEC is a nonprofit, non-political organization that works to provide youth around the world with cultural exchange programs and enhanced leadership skills.
Students who attended the event sampled cuisine like Brazilian cochinas and Russian condensed milk while learning about AIESEC's programs.
"For those who want to go abroad but don't have the resources to study abroad, it's a cheaper alternative and you are really making an impact on the community you go to," said AIESEC member Sarah Trihn, a senior Asian Studies major at Suffolk. "You'll be living in the community, working with the people there and really learning about the lifestyles, the cultures and the problems they face."
The exchanges can last from six weeks to 18 months and are available year round. Each exchange requires students to work toward one of the United Nations' 17 Sustainable Development Goals for 2030, such as reducing climate change, providing equal education opportunities and eliminating poverty in nearly 20 partner countries.
AIESEC is run entirely by people under 30 and its programs are available to both undergraduate and graduate students. Each program is created by people who live in the country where it takes place in order to address the individual needs of communities across the world.
Allie Hughes, national director of operations for AIESEC in the United States, taught English to underprivileged students in Thessaloniki, Greece through the organization when she was a student at the University of Georgia.
"It doesn't matter how many previous jobs I have had, my opportunity with AIESEC is so unique and its a conversation point in all of the interviews I have been in," said Hughes in an interview with The Suffolk Journal. "Sometimes AIESEC is [Suffolk's] best kept secret and I don't want it to be like that anymore."
While an experience abroad through AIESEC cannot be counted for class credit, it can be used to fufill the the global engagement requirement in the Sawyer Business School.
Suffolk's AIESEC adviser Laurie Levesque, an associate professor of management and entrepreneurship in the business school, said the organization can provide an 18-month work opportunity abroad right after graduation for people up to 30 years old.
"Coming from New Hampshire, I didn't have a lot of opportunity to interact with people who are different than myself and AIESEC really changed that," said Levesque, who was a part of AIESEC while at the University of New Hampshire in the 1980s. "It gave me the professional development I wasn't getting at the time."
Levesque said the program not only has an impact on students going abroad, but also on the international members who come here and the Suffolk community as a whole.
"By bringing people to campus, to Boston to volunteer or to work, [Suffolk students] are helping those individuals develop relationships here and in the U.S. work culture," said Levesque. "Even though we're a diverse campus, you don't always have the same level of conversation about what it's like to work in another country like you do with AIESEC."
Information sessions on going abroad with AIESEC will be held in room 114 at Somerset from 12:15  to 1:30 p.m. on March 5 and 19 as well as April 2, 16 and 30.
Leave a Comment
About the Contributor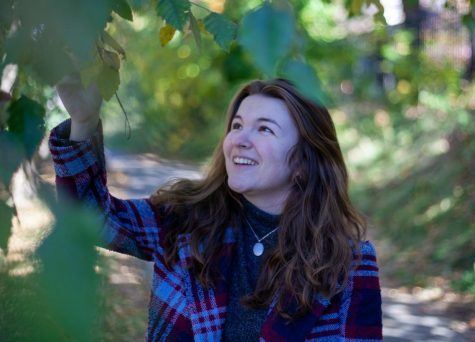 Caroline Enos, Editor-in-Chief | she/her
Caroline is a senior from Gloucester, Mass. She is majoring in print/web journalism and minoring in political science. Caroline was formerly a news editor for The Journal, is currently a correspondent at the Boston Globe and was also a correspondent at The Gloucester Daily Times. When she isn't stressing over deadlines, Caroline spends her time drawing and listening to good music.
Follow Caroline on Twitter
@CarolineEnos
Email her at
[email protected]