Another successful semester for SUMUN students
Suffolk is known for its diverse campus with students from over 150 different countries; a place where it is best represented is in Somerset, room B18, where the Suffolk University chapter of the Model United Nations meets weekly.
The Suffolk University Model United Nations (SUMUN) is a group of politically active, socially and culturally diverse students.
They aim to hone and develop skills like delegation, public speaking, professionalism and many others.
The U.N. is an international organization that works towards protecting human rights, promoting development and maintaining international peace and security, according to their website. A smaller organization called Model U.N. involves young people from around the world in international problem resolution.
Over the last two years SUMUN has been awarded 'Outstanding Delegation' (1st place) in the 2017 D.C. conference and honorable mention at the Washington D.C. and New York conferences in 2018.
At the most recent national conference in Washington D.C., SUMUN represented both Slovakia and Tajikistan. Half the group represented each country because the group was too large to represent only one.
Tajikistan was awarded honorable mention and Slovakia came in first place with Outstanding Delegation.
Suffolk has been a part of the collegiate level Model U.N. since 2009 and has grown immensely since, especially in the last few years. Current president of SUMUN, Angela Cutone said that when she joined in 2016, there were only 8-12 consistent members, a number which has now risen to about 45 members.
This group currently attends three Model UN conferences a year. One is Boston based, one in D.C. and the final, and largest, in New York City. Public affairs officer and Treasurer elect Kostas Loukos explained that each university that attends represents a different country and tackles international issues from the point of view of said country.
Students then pair off into different 'committees' that focus on more specific issues. For example, there are committees like ECOFIN – the economic and finance committee, or SOCHUM, the social, humanitarian and cultural committee and a wide range of others that cover almost any political or social issue.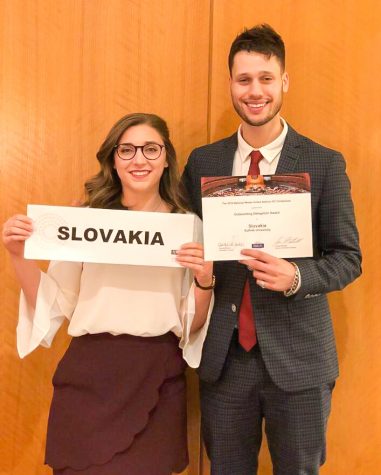 These students work in pairs, one whose strength is writing and one whose strength is speaking. They then work together to present a solution for an issue regarding international conflict to UN delegates. Both individual committees and entire chapters can receive awards for presenting the most viable solutions.
According to Cutone, the group's growth and success is due to the focus on quality control over marketing tactics. SUMUNs e-board is dedicated to grow the number of students involved by word of mouth rather than flyers or other kinds of advertisement. The group also reduced the number of conferences they participate in a year down from four to three.
"This way people could be less stressed by each conference and really worked towards each instead of rushing through them," said Cutone.
The students involved in SUMUN seem to be incredibly passionate about the group.
Cutone explains that this passion is able to develop because SUMUN has something for everyone.
"We have members of all majors, CAS or SBS, members from numerous countries and backgrounds who have all been able to find their niche in SUMUN," said Cutone.
These students work on developing their skills in meetings each week on Tuesdays at 12:15 during activities period. Sophomore Keith Horvath recalls an exercise they did at last week's meeting where they played loud music over students speeches to teach them how to stay focused during commotion and how to project their voices.
"It was funny to see the juxtaposition of Cardi B blasting in the background while people give a speech about the Israeli-Palestinian conflict for example," said Horvath.
As the group expands Loukos hopes to expand their budget so that they can continue welcoming as many members as possible.
"SUMUN welcomes everyone. We become a sort of family as we all work towards a common goal," said Cutone.