Remembrance service honors 9/11 victims
Hang on for a minute...we're trying to find some more stories you might like.
Haven Orecchio
Journal Contributor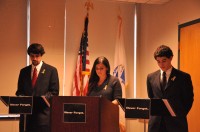 Commemorating the ninth anniversary of the most tragic event in modern day history, Suffolk University held a ceremony with student speakers and a reading of the names of 9/11 victims. Students, faculty and staff members gathered in Donahue 403 last Tuesday to pay respect to Americans by sharing their 9/11 stories.
The Suffolk GOP, in collaboration with SGA and The Association of College Democrats, organized the ceremony. The event began with a prayer led by Reverend Amy Fisher; Kaitlyn Flynn's sang the National Anthem.
"I will never forget watching the announcer on MSNBC stutter as the plane crashed into the second tower," said Karl Hoffman, former president of SuffolkGOP, at the podium.
"There are always events that a specific generation will remember where they were and what they were doing when it occurred," said Mitch Vierra, SGA president. "To some it is the Kennedy assassination, and to our generation it is September 11. It is truly important as a student body to take the time to pay respect to all those who lost their lives nine years ago."
Student leaders took turns reciting the names of the victims of each disaster site and the planes that departed from Logan Airport in Boston.
"The reading of names really showed how big it actually was," said Joe Paru, president of SuffolkGOP. "It is moving when you sit there and read 3,000 names."
"Of course I have never forgotten what had happened on 9/11, but after nine years the immediate tragic impact has faded," said freshman Chelsea Duquette folowing the ceremony, "but it wasn't until I sat in a chair and listened for over an hour to the hundreds of casualties that the memories and pain of the day came flooding back."
Thomas Schoales, one of the 343 firefighters who lost their lives in the crumbling World Trade Center, should not be known as a number on a list of names. Each and every name on the list was a person; they were mothers, fathers, brothers, sisters, sons, daughters, and friends. Those who knew "Tommy" all miss him for different reasons, but none will forget his sense of humor. His life ended unfairly at only 27 years old, leaving many adventures undiscovered.
There are thousands of other stories to be told of those lost in the tragedy. Sometimes when people are reduced to numbers and statistics on a list, each life taken loses the value it had only nine years ago.
A slideshow projecting visuals of the attacks and aftermath accompanied the readings.
Tuesday's ceremony was not only to honor the lives of those murdered, but it was to reflect on the tragic day and the effect it has on how Americans live and think.
"The turnout was an improvement from last year, where we 10-15 faculty members, a few students," said Paru. "This year we had about 40 [attendees] between faculty, staff and students."