How dare you, Nike?
A company takes a stance on public opinion with an ad involving Colin Kaepernick.
As temperatures cool in New England, we have to hang up our summer wear in exchange for long pants and long-sleeve shirts to kiss the summer goodbye. The baseball season is on its last month or so – with the Red Sox leading the league in overall record, I might add – which means one thing amongst many others: the start of football season, again.
So, what's the hot topic on football? Trade rumors? Are people asking which team will be at top of the league?
Like last fall, the hot topic in the sports world is Colin Kaepernick and his activism.
This time, Nike is weighing in. The company has made Kaepernick its "centerfold" if you will, for its new ad campaign, citing his actions when it came to kneeling during the national anthem.
For Nike to use Kaepernick as a lead figure in their latest advertisements is questionable and borderline irresponsible given the state of the country and race relations between minorities and law enforcement. Because of the ad campaign, many Americans have taken to social media, forcing their political agendas and burning their Nike products.
Put the stock market aside – not everything is about money, and whether or not Nike thrives as a company in terms of capital gain following the campaign does not decide whether or not their campaign is ethical.
To say that companies like Nike do not have a say is wrong, or that they should not be able to express their opinions is also wrong. This is a nation of free speech. It is, however, risky behavior for companies to get involved with public opinion.
It is not the place for large corporations to pave the way for even more divisive politics, as societal opinions are polarized enough. For example, Chick-Fil-A, after allegedly donating money to anti-same sex marriage groups, was in the hot seat simply for commenting on same-sex marriage. President and CEO of Chick-Fil-A Dan Cathy made headlines when he said "guilty as charged" when asked if he was in favor of the traditional family structure, according to a Huffington Post article published in 2016.
The public is very impressionable, especially in this new-age of tailored media, or media that is tailored to our beliefs by way of subscription via digital media toward certain outlets that reaffirm our beliefs, leaving us less exposed to opposing views and less accepting of different viewpoints. There are more ways that technology can reinforce our biases and beliefs nowadays than ever before, creating for a dangerously polarized society, leading to an even more dangerous political environment. Companies that have massive influence, like Nike, are taking a big risk running advertising campaigns like this one.
Kaepernick is a divisive figure and a variety of opinions are present on the issue. But in the bigger picture, can you really blame any given African-American citizen who has been falsely abused or searched by an officer just for being black for being angry about how police officers can sometimes treat black people? Or can you really blame a police officer that never did anything of that sort for being angry about being labeled as a racist, just for being a cop?
Both sides deserve recognition and respect for their beliefs, as they both have completely valid reasons for feeling the way they do. It does not matter whether or not the truth is that police are brutal all the time, or if cops are being falsely accused more often than not, as nobody has a true way to concretely prove those claims – both sides have reasons to feel the way they do.
But as for burning Nike products: America, please stop looking for validation through social media. That little hit of dopamine you get when someone likes your post of you burning your Nike stuff, or you posting how much you love the ad campaign, isn't helping anyone. It is simply a waste of money and nothing more.
The effect of such behavior is a much more polarized and inconsiderate viewpoint than it would be otherwise. It is completely acceptable to express agreement or disagreement with Nike, but many less fortunate would all be better off if those people burning their products online donated their Nike gear to nonprofits as opposed to letting them go to waste.
Instead, donate money to a favorite nonprofit. Donate to an organization that advocates for less police brutality. Donate to an organization that helps protect police officers. Go volunteer at Salvation Army or something similar. Donate your Nike shoes to help benefit others instead of burning them.
Instead, use this controversy as a way to broaden your views about race relations and help those who need it, not a way to push your agenda.
Leave a Comment
About the Contributor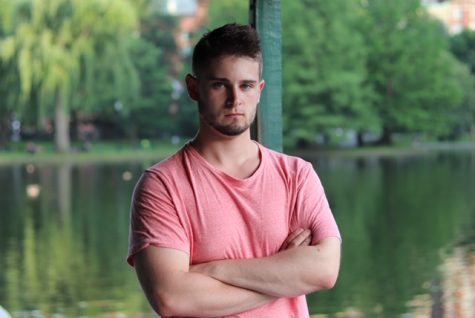 Ryan Arel, Former Senior Staff
Vermont native Ryan Arel is a former Arts Editor and former Opinion Editor for The Suffolk Journal. A print journalism major and economics minor, Ryan aspires to become a versatile writer who can cover any story of any topic that is worth telling.

Passionate about sports, photography, and history, Ryan also hopes to write and research in a way that makes complex issues easier for readers, and himself, to understand.

After leaving Suffolk, he hopes to work in the media field and stay in Boston, but he does not duck away at the idea of maybe traveling someday for work. When he isn't in the office, he can be found scream-typing homework assignments and stories, at the gym, watching "The Office" reruns or The Red Sox, his favorite sports team.

Follow Ryan on Twitter @ryanarel.