Suffolk Madrid attracts new round of adventurous students
Suffolk Madrid captivates study abroad students
Hang on for a minute...we're trying to find some more stories you might like.
While the brown stone buildings and rolling esplanade make Boston an ideal college town, some students decide to venture outside the United States to enjoy the pastel buildings and balconies that magically frame the artistic beauty of Spain at Suffolk University's Madrid campus (SUMC). With a prime location in the heart of Madrid, students are not only drawn to the vibrant Spanish lifestyle, but also the accessibility of the campus and the social and cultural aspects of the city. This past semester marked another successful study abroad experience for several students who spent it at Suffolk Madrid.
"Studying abroad through the Madrid campus allowed for a smooth transition from Boston to Madrid," said incoming junior Film Production major Katie Marshall. "Being able to experience studying abroad with fellow Suffolk classmates made the experience that much better."
Anywhere from 100 to 200 students have flocked to Madrid each year, according to the Suffolk 2016-2017 Fact Book from the Office of Institutional Research and Assessment. Drawn to the authentic food, detailed architecture and endless fiestas, students have enjoyed studying abroad in Madrid since the campus was established in 1995.
Suffolk's study abroad faculty has helped students transition from Boston to Madrid by assisting students with the application process and ensuring the seamless transition of work from the Madrid campus to the Boston campus. Numerous opportunities for students have been offered by SUMC that encourage students to embrace the friendly culture and interesting traditions of Spain.
Going from a typical American lifestyle directly into a Spanish one had the potential to cause serious culture shock for a lot of students. Many students expressed that the pace of life is much slower and more relaxed in Spain than in the U.S. Meals are held later in the day and siestas are an essential component of the day. SUMC gave students the opportunity to make the most out of these cultural differences by offering various opportunities.
"We offer the option of homestays for students who wish to have a more in-depth experience of living abroad," said SUMC Director Elizabeth Baile in a recent interview with The Suffolk Journal. "Co- and extracurricular activities, including our weekend cultural trips, are designed to give students the opportunity to learn more about Madrid and Spain."
The campus has capitalized upon its convenient location by holding various events and trips to promote greater global understanding and community for study abroad students. The trips always had tours and activities planned, some of them including Flamenco shows, horseback riding, bike tours and watching bull fight shows.
"These organized trips and activities that Suffolk Madrid planned for the program throughout the semester helped us all get a better sense of the culture within Spain and allowed us to bond with each other along the way," said incoming junior Broadcast Journalism major Sophie Bortone. Many students enjoyed having the opportunity to travel with their colleagues from SUMC and strengthen those friendships while traveling together.
SUMC also organized a trip to Tenerife as a part of the Astronomy Lab, which gave students the opportunity to escape the light pollution of the big city and observe the stars for four nights. This course was a very attractive aspect of the Madrid campus because students in Boston had no way of accessing this opportunity.
"Observing the stars in the Canary Islands was a life changing experience," said junior Applied Legal Studies major Kemelly Hadassa. "During the days we got to explore the island, including walking through caves and going to the beach. It was definitely one of my favorite trips."
For the faculty of SUMC working with study abroad students all semester, it is inspiring to see students grow individually and adjust to the Spanish culture.
"There's always a sense of adventure among the students and I love seeing them enjoy the places and people," said SUMC Student Activities Coordinator Amy McAllister. When planning events, McAllister's goal is to utilize experiential learning to make events memorable for students.
"At the end of [the students'] semester or academic year of study with us, suddenly they begin to realize all they've learned and progressed since that day they arrived, culture-shocked and overwhelmed at the newness of it all, a few months before," said Baile.
The culture-shock that many students experienced while they were abroad opened their eyes to a new way of life.
"Getting acquainted with the culture was a bit challenging at first, but in the end I did grow to like it," said incoming junior Wealth Management major Dominic Cutter-Cannuli . "I was expecting there to be so many large cultural differences between Spain and the U.S. but there were actually so many small differences that amounted to a large cultural difference."
Living in Spain and traveling throughout Europe did more than create memories and provide a cultural and educational experience for students. Seeing so much of the world outside of Boston inspired students to travel more and obtain a diverse perspective on the world.
"Studying abroad at Suffolk Madrid sparked my desire to travel the world, meet new people, and immerse myself in different cultures," said Bortone. "I have learned that there is so much out there in the world just waiting to be explored. My perspective of the world has completely changed."
About the Writer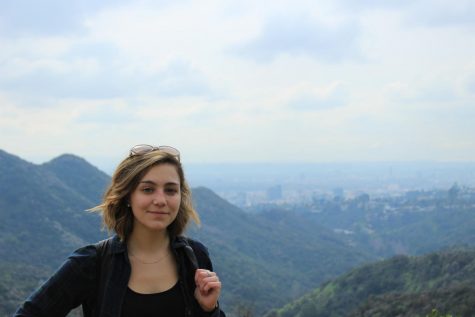 Amy Koczera, World News Editor
Amy has been writing for The Suffolk Journal since fall 2016. In addition to being the World News Editor, she is also the treasurer of the Suffolk Jazz Band, a Teaching Assistant, Resident Assistant, a member of The Journey program, and a Project Leader for the Center for Community Engagement. Amy is originally from Dartmouth, MA and studies Broadcast Journalism with a minor in Philosophy. When she's not in the Journal office, you can find her at the gym, the Esplanade or walking around campus wearing a backpack that's twice her size.