Brooke breaks it down
A piece from the Sports Editor to the graduating seniors of Suffolk University
When growing up, it was undeniable to dream of future milestones and life goals. Personally, one of these milestones is soon be accomplished in just four short weeks: obtaining a college degree.
Sure, it may be something that I always knew I would likely acquire, but now that the time is here, I am constantly seeking for a few more hours to be added to the clock. A question that has become more prominent recently, more than ever before, is one that I was asked many times during my childhood and parts of my adulthood:
What do you want to be when you grow up?
It is a trick question because does one actually know what they want to be, even when they are a grown adult?
Dreams of being a veterinarian spewed in my young mind for years. I always wanted to be slightly taller, and simply happy was often an answer I found myself giving. As the years progressed, the passion for writing took over completely but, here I am, weeks before my college graduation, as a technical "grown up" and if to be asked that question now, my response would have to be "I don't know."
"
Even without concrete answers we are capable of accomplishing so much, like obtaining a college degree."
For those who will walk across the stage with me on May 20 that have the answer to the daunting question, I applaud and sincerely congratulate you. To know what you want to do and what you want to be is not an easy task to accomplish because life is filled with so many opportunities and unexpected circumstances.
And of course for those, like myself, that are still not entirely sure what they want to be, as they are already grown up, just know you are by no means alone. There is no telling where this world is capable of taking you.
If a BuzzFeed quiz is what it takes to answer the trick question, then so be it, but just know, not having an answer to anything does not make you a failure. Failure may be inevitable, but at this point, you are receiving a diploma and that is definitely not due to a lack of success.
Over the course of an individual's entire life, it seems they are constantly seeking for answers and trying to figure out the "what's next" portion of their existence. When I walk across that stage, filled with a range of emotions, I will have accepted the fact that I do not have an answer to this trick question that has been asked likely a billion-and-one times over the course of my existence.
As I am about to receive a college degree, I will have accomplished an incredible milestone in this life and not knowing exactly what I want to be as an adult is acceptable in my eyes because there is so much out there to be created. Instead of worrying about what I want to be as an adult, I am going to look at what I want my life to look like.
My life does not need to consist of this perfect dream that many seek for, but rather, I prefer my life to revolve around pure bliss and positivity. I am motivated by the fact that there is beauty in everything and everything happens for a reason. With that, I can envision my future and utopia.
We as individuals need to stop letting trick and daunting questions pressure us into a life that is not meant to be. Even without concrete answers we are capable of accomplishing so much, like obtaining a college degree.
So whether as an adult you do or do not know what you want to be, I encourage you to just live and create your own life after you walk across your stage.
Leave a Comment
About the Writer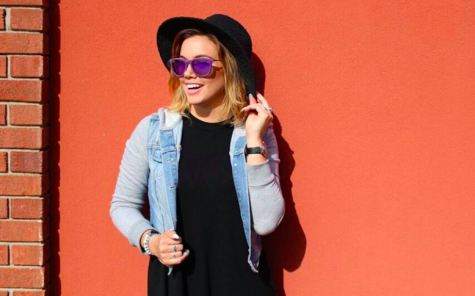 Brooke Patterson, Past Sports Editor
As a senior majoring in Journalism Print/Web, Brooke Patterson strives to not only bring a positive light to her stories, but also those around her. Despite the fact that her sports career has ended, Patterson remains involved with her love for athletics through The Suffolk Journal as the Sports Editor. She is currently exploring life in the city of Boston and will never hesitate to stop to pet a dog as they walk by her. Although Boston will forever be her home, Patterson hopes to explore and use her degree in other cities, such as New York and Los Angeles.