Attempting change: State by state, how effective is gun reform?
Changing gun rights on a federal level could be a better solution instead of the newly implemented laws that leave too much to the imagination.
As a nation, the issues of gun rights and violence have been rather tumultuous in the last few years.
In the wake of an belligerent public uproar regarding gun laws in the U.S., Vermont has passed more regulations on firearms in an attempt to help curtail the ability to obtain firearms without proper vetting or background checks. According to a recent Wall Street Journal article, "The Vermont bill also marks a significant shift for a state that, despite its liberal reputation, is a largely rural place with a high rate of gun ownership and few historic gun regulations on the books."
As a citizen of the U.S. and a Vermont native, this may not do a great deal for the state initially. States cannot lead in gun reform because people are able to purchase guns out-of-state, where laws may not be as strict.
The passing of these regulations will have a limited immediate effect.
According to freshman computer science major Jace Laquerre at the University of Vermont in an interview with The Suffolk Journal, "The true outcome of the law change will be the destruction of 241 years of [a] responsible gun culture in Vermont."
Laquerre has served as a delegate at the Republican National Convention and was recently on a CNN segment with David Hogg and other gun activists discussing gun reform in America. He also testified to the House Committee on Judiciary in Vermont, fighting for the new gun laws to allow age exceptions to certain people.
"Vermont has had a long standing tradition of exceptional firearms freedoms and some of the lowest crime rates in the nation," said Laquerre. "[The new laws] in reality are unenforceable and will do absolutely nothing to increase the safety of Vermonters or our schools."
It is true that the majority of people in Vermont do not believe that the state needs gun reform. Most people believe in the right to own firearms and vast amounts of people contain gun owners within their families or are gun owners themselves.
Vermont has a massive hunting culture, no different than that of upstate New York and New Hampshire, two of its three neighboring states.
As a result of the sweeping ban, magazine capacities will be limited to ten rounds for long guns and fifteen rounds for handguns. The new law will also raise the gun buying age to 21, with exceptions for those who have passed hunter safety, but also expands background checks and bans bump stocks. However, the magazine limit will only apply to magazines not yet sold, not to magazines people already own from prior to the law change.
Despite background checks being implemented, there is no reason to believe that they will be effectively enforced. It would be nonsense to believe that a minor could not get access to a gun or extended magazines given that neighboring states do not have similar laws and there is no one at the state borders searching vehicles or checking whether someone purchased or obtained firearms out of state.
In regards to magazine round capacity limits, since the law only applies to new sales, the use of these magazines will continue despite the law change. It would be naive to think that these regulations will curtail the use of such magazines when magazines sold prior to the law change are not prohibited. Those that are still in circulation can still be used to commit atrocities – and the ownership of higher capacity magazines, despite the change, is completely untouchable under law given they were purchased legally before the law change.
The ability to enter another state, purchase these items and head back into Vermont is an issue that is severely unenforceable.
Similarly, there are also certain regulations regarding fireworks that differ from Vermont's laws, and around Independence Day, lots of Vermont residents will head to other states to purchase their fireworks where the laws are less strict.
Though setting regulations now will pave way for a new culture in generations to come, for immediate results, the issue of gun control should be dealt with at a federal level.
Setting laws that are difficult to enforce will have limited effects on current gun behavior in Vermont and if more states follow through with similar regulations on a state level, they will experience the same dilemmas.
A house divided cannot stand. This cannot be dealt with in Tallahassee, FL, or Carson City, NV, the states of two recent shootings. It certainly cannot be dealt with in Montpelier, VT either. This is an issue that needs to be dealt with in Washington, D.C.
Leave a Comment
About the Writer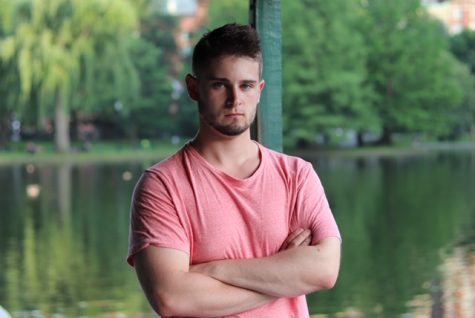 Ryan Arel, Former Senior Staff
Vermont native Ryan Arel is a former Arts Editor and former Opinion Editor for The Suffolk Journal. A print journalism major and economics minor, Ryan aspires to become a versatile writer who can cover any story of any topic that is worth telling.

Passionate about sports, photography, and history, Ryan also hopes to write and research in a way that makes complex issues easier for readers, and himself, to understand.

After leaving Suffolk, he hopes to work in the media field and stay in Boston, but he does not duck away at the idea of maybe traveling someday for work. When he isn't in the office, he can be found scream-typing homework assignments and stories, at the gym, watching "The Office" reruns or The Red Sox, his favorite sports team.

Follow Ryan on Twitter @ryanarel.