Sox season preview: Changes in the clubhouse look to core young talent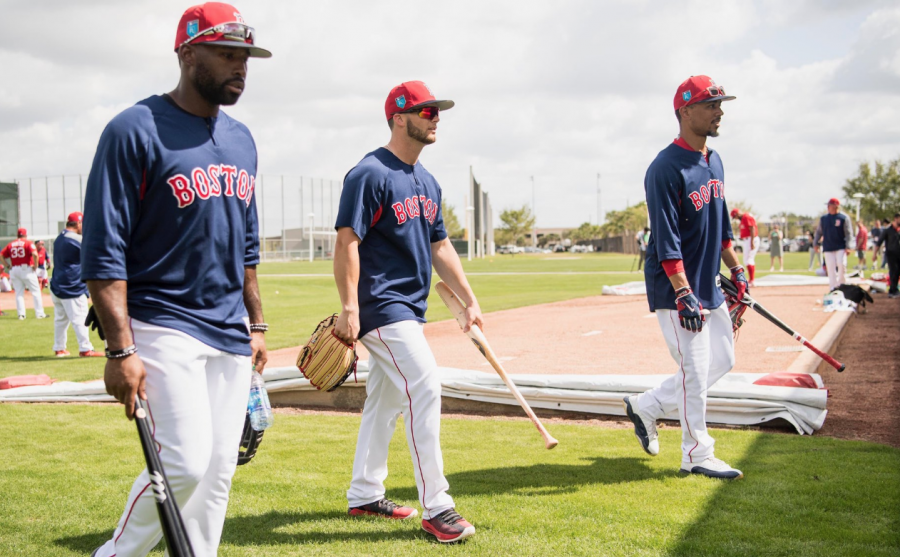 Forget about all of the snow falling on Boston this month, the forecast for the Red Sox calls for strikeouts and home runs, and on paper they just may have solved their biggest problem since October 2016: replacing David Ortiz.
In Feb. 2018, Red Sox Nation found out the club signed slugger J.D. Martinez to a five-year, $110 million contract. Last year, with the Detroit Tigers and Arizona Diamondbacks, Martinez hit 45 home runs with 104 runs batted in (RBI) according to baseballreference.com. The Red Sox lacked power hitters in 2017, placing among the league's worst hitting only 168 home runs, finishing only in front of Atlanta, Pittsburgh and San Francisco according to MLB.com. Their foe in the Bronx, the New York Yankees, however, finished first with 241 homers. Their lineup contained last year's American League (AL) home run leader Aaron Judge, and after a blockbuster trade this offseason where the Yankees acquired National League home run leader Giancarlo Stanton adding to New York's offensive arsenal, this was a smart move by the Red Sox.  
Ortiz was always known as the hero who could change the game with one swing of the bat. Red Sox President of Baseball Operations Dave Dombrowski could have just found the last piece to take Boston back to the World Series. Martinez, 30, shows a lot of promise in bringing power to the reigning American League East Champions.
Change at the Top
Another offseason acquisition Dombrowski pulled off was hiring new Red Sox Manager Alex Cora. Cora was previously the bench coach for the 2017 World Champion Houston Astros, but is also known for helping the Sox to a World Series in 2007 as an infielder.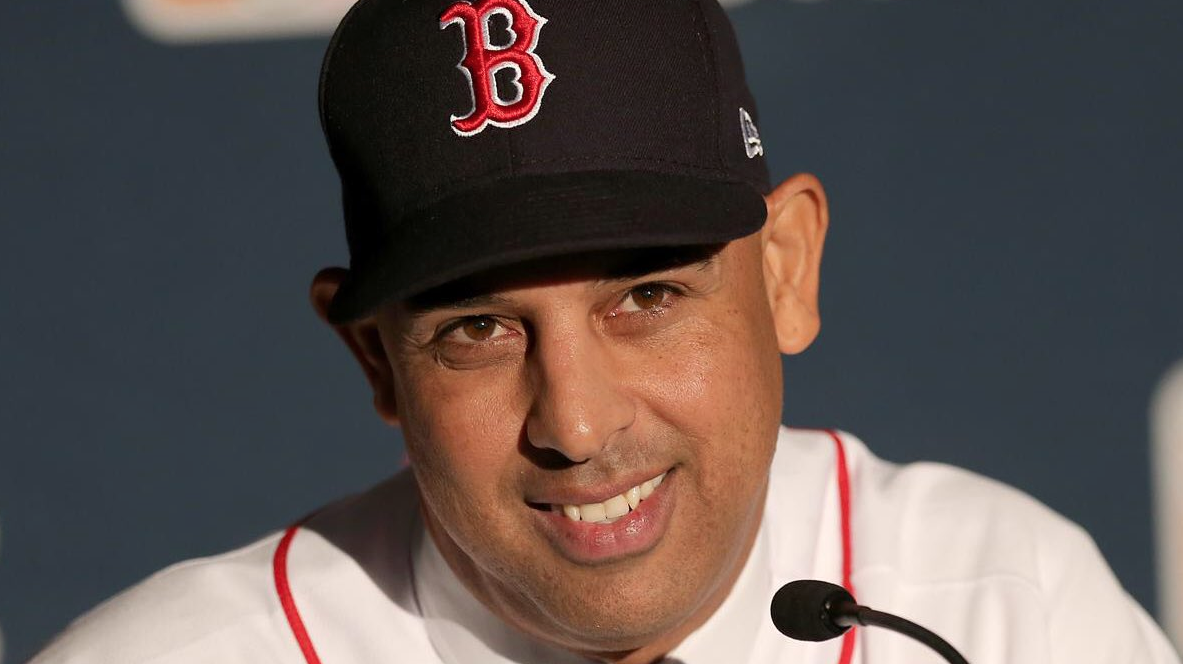 "Returning to the Red Sox and the city of Boston is a dream come true for me and my family," said Cora in his introductory press conference on Nov. 6, 2017 at Fenway Park in Boston. "I look forward to working towards the ultimate goal of winning another championship for this city and its great fans."
After the Red Sox spring training game at JetBlue Park in Fort Myers, Fla. against the Pittsburgh Pirates on Mar. 20, Cora announced that left handed hurler Chris Sale will get the ball on the mound for opening day against the Tampa Bay Rays when the two teams kick off their season on Mar. 29 at Tropicana Field in St. Petersburg, Fla.  
Sale posted a 2.90 earned run average (ERA) last season while posting a 17-8 record striking out 308 batters, according to baseballreference.com. Sale became the first AL pitcher to reach 300 strikeouts (K) in a season since Red Sox Hall of Famer Pedro Martinez did it in 1999, wrote Jay Jaffe of Sports Illustrated. Pedro Martinez told CSN New England and former Red Sox infielder from 1998 to 2003 Lou Merloni this summer that he had "never seen anything like it." Martinez then went on to say that he never "saw what I was doing" and did not "stop to look at what was going on" he continued to Merloni.  
Sale ended the 2017 season going 7-4 with a 4.09 ERA. These numbers are not awful, but Sale holds himself to much higher standards. He thinks part of that stat line is because he came into spring training "too amped up" last year, he told the Associated Press and Boston.com. Cora, new pitching coach Dan LeVangie, the training staff and Sale "all got together and talked about coming up with a formula for longevity and building up" Sale continued to say.  
Not just Chris Sale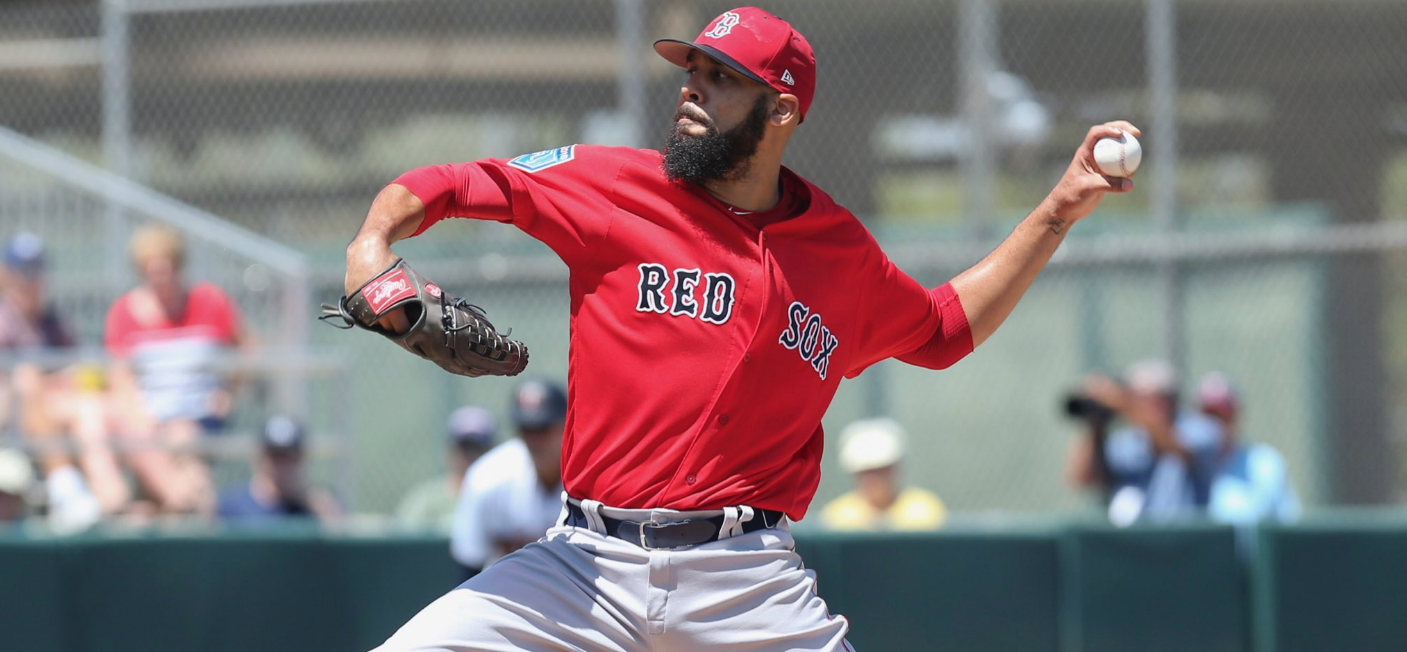 As for the rest of the Red Sox rotation, Cora announced that starting pitchers David Price and Rick Porcello will start games two and three, respectively, according to WEEI's Rob Bradford.  Price was moved to the bullpen last season after struggling as a starter as well as being hurt with elbow and forearm tightness to start the season. Despite Price's good performance out of the bullpen to close out the regular season and in the American League Division Series against the Astros, he was unhappy with what happened, writes masslive.com's Jen McCaffrey.  He went on to tell McCaffrey "winning cures everything" and he "looks forward to getting back this year on the right foot."
The role of fourth and fifth starters in the rotation belong to Hector Velazquez and Brian Johnson, respectively, Cora told WEEI on Mar. 26. Johnson impressed this spring going 2-0 in 5 starts with a 1.72 ERA with 15.2 innings pitched and 13 Ks according to MLB.com.  His most impressive start would come against the Yankees in Tampa going 4.2 scoreless innings allowing just two hits and one walk while fanning five against New York's "A-lineup," NESN's Mike Cole writes. After this start against the Yankees Cora announced Johnson will be the fourth or fifth starter, and made his official decision to give him the ball in the series opener when they travel to Miami to take on the Marlins.  
Velazquez made 19 starts for the Pawtucket Red Sox last season, Boston's Triple-A affiliate. He went 8-4 with a 2.21 ERA while also making three starts in eight appearances up in the majors going 3-1 with a 2.92 ERA, according to baseballreference.com. He did not have the sharpest spring after a solid 2017 campaign posting a 5.30 ERA in six starts, but showed promise in his final outing of the spring on Mar. 27 going 4.0 innings allowing no runs on just three hits and one free pass.  Velazquez will pitch the series finale against the Rays on April 1.
The Injury Report
After the Red Sox's 2017 number two starter Drew Pomeranz left his outing prematurely on March 2 with reports from multiple sources, including WEEI and NESN, of a mid left flexor strain, the light on the other end of the tunnel got brighter for Johnson. Pomeranz will now start the season on the 10-day disabled list. The league offices announced on Mar. 23 that knuckleballer and potential starter Steven Wright will be suspended the first 15 games of the season for a domestic violence incident last season. There will be a lot of decisions made regarding Eduardo Rodriguez who will start the season on the 10-day disabled list as well, who is coming back from knee surgery, Wright, Johnson and Pomeranz, in April, but once all are healthy and available it will be a good problem to have an extra capable starter.  
As for the rest of the line-up other than J.D. Martinez, the Sox resigned Eduardo Nunez, according to Ian Brown of MLB.com and Buster Olney of ESPN, and Mitch Moreland according to The Athletic's Ken Rosenthal.  Nunez was received from the San Francisco Giants last year on July 26 just days before the MLB trade deadline, Ian Brown also reported. It was important to lock up Nunez because veteran leader in the clubhouse Dustin Pedroia will miss the start of the season while still recovering from knee surgery this past winter.  
Nunez and shortstop Xander Bogaerts will only have utility man Brock Holt on the bench behind them as Boston shipped infielder Deven Marrero to the Arizona Diamondbacks on Mar. 25, both of the clubs confirmed.  Either Marrero or Holt would have found themselves without a roster spot come opening day, but the Sox front offices stuck with the more experienced Holt.
The most interesting storyline to pay attention to for the position players will be how the playing time will be distributed between centerfielder Jackie Bradley Jr., first baseman and designated hitter Hanley Ramirez, Moreland and Martinez.  Martinez can play both designated hitter and a corner outfield position. When he is in the designated hitter role, Moreland and Ramirez will have to share time at first base. But, when Martinez plays a corner outfield position, if this is a long term role, outfielder Andrew Benintendi will likely move over to centerfield keeping reigning Gold Glove Award winner Mookie Betts in right field where he is comfortable.  Bradley Jr. has been a stud without a doubt in center, but Benintendi and Betts' bats have been more impressive at the plate. Cora and Dombrowski have hinted that Martinez will spend most of his time as a designated hitter, so Bradley Jr. can sit back keep putting on a show with both his arm and glove for now.
Up to Code
Ramirez has not quite lived up to the standards Red Sox Nation holds players to after signing a four-year, $88 million contract with a $3 million signing bonus. He's been back with the team that drafted him since 2015, and although has struggled at times , has showed promise and leadership especially at the end of last season.  He is also liked by new skipper Alex Cora, according to NESN. This will propel Ramirez to more than likely start at 1B against the Rays on Opening Day.
As we have learned throughout the last few years, baseball is a game of inches.  As we approach game one of 2018, anything could happen, we will both learn new names, and continue to hear about experienced veterans as the Red Sox look to go for a three-peat in the AL East and go for the ultimate goal in the Fall Classic. We all have our calendars marked up for Thursday, March 29 against the Rays, the first time they face the Yankees on April 10, as well as game 162 against them on Sept. 30 and all the games in between.  
It's finally here, the game balls are being shined, lineups are being made, everyone is locked and loaded for another thriller this year.