Suffolk panel tackles America's worldwide war on drugs
Last Wednesday, Professor Maureen Norton-Hawk and other Suffolk University staff held an open seminar at 73 Tremont titled "The Wall-Drug Policy in the U.S." for students and faculty to discuss the issue of international and domestic drug policy and its handling, as well as issues regarding Trump's proposal to build a wall along the U.S-Mexico border.
Norton-Hawk, Philosophy Chair Gregory Fried, Assistant Professor John Smolinsky, Associate Professor Eric Bellone and Economics Department Chair Shahruz Mohtadi were featured on the seminar's diverse panel.
Americans spend roughly one billion dollars on drugs each year and the government arrests about one and a half million each year and four million people are convicted yearly for drug charges, according to the seminar's panel.
The members of the panel boasted specialties across a variety of disciplines, such as philosophy, criminal justice, economics and sociology. The panel  covered topics that ranged from the criminal justice system and drug courts to drug trafficking.
Given that Suffolk University has possessed such a high international student rate, and that international drug trafficking is very much an issue, Norton-Hawk said it is important for students to be aware.
"[We've] got to understand that we are a global village," said Norton-Hawk.
Suffolk's student body contains students from many of the countries which the U.S. has current or former international drug trade relations with, such as China, Columbia and various Middle Eastern countries. Since Suffolk's student population predominently hails from many of these countries, students may very well have seen how international drug trade affects their native land.
According to the panel, a prominent issue regarding the U.S.-Mexican drug trade is the domestic drug production, Middle Eastern and Chinese drug imports are also a contributor to the issue.
Norton-Hawk and the rest of the panel spoke to the issue of the border wall and whether or not it would be valid in helping to combat U.S.-Mexican drug trade. According to Norton-Hawk, it "doesn't make any sense" to build a wall.
Fried agreed with Norton-Hawk's criticism of the plan to build the wall.
"The wall is a sham. As far as drug policy goes, it is a completely meaningless thing except as a symbol, as a symbol of a hard-nosed approach to immigration," said Fried.
Although the U.S. has taken precautions to keep cartels and drug dealers from getting into the country, Norton-Hawk claimed that they find more ways to bypass these regulations, or find new ways to enter altogether.
"They [the traffickers] are not dumb," said Norton-Hawk. "Just because they're doing something we've defined as illegal doesn't mean that they're stupid. They want to make money."
Mohtadi claimed that a possible way to curtail the trade of drugs is to go after the role of supply and demand, why or why not Americans buy drugs and that even as prices rise, it may not matter. Mohtadi claimed that drugs have very little elasticity. Elasticity is "how sensitive you are to a change in price," he said. As far as drugs go, there is low elasticity, meaning when prices go up, buyers will still buy, according to mohtadi.
Fried spoke to this in the seminar and said that as long as drugs are pleasurable, humans will continuously seek their use. "[Drugs] supposedly make you happy. There is a very serious problem with the conception of happiness, which is generally based around pleasure and self-satisfaction," said Fried.
Smolinsky reaffirmed Fried's point.
"All they [patients] know is 'this felt better than that'," said Smolinsky.
There was also some discussion regarding Afghanistan and how the U.S. went after the supply of opium. "When we went to Afghanistan to fight the Taliban, one of the things that we did was destroy their poppy fields," said Motadi. "One of the policies we had was completely destroy their means of living, and so you wonder why the local population still protects the Taliban." In 2016, global opium production (6,380 tons) increased by one third compared to the previous year, according to the United Nations Office on Drugs and Crime.
Bellone discussed drug courts as opposed to criminal courts at length, stating that they are not geared toward the punishment of drug criminals, but instead toward their recovery.
"They're not there to protect your health, they're there to protect your rights," said Bellone in regards to attorneys in the criminal justice system. "Whereas in a drug court that's exactly what they're supposed to do… A drug court judge is very involved in everything."
Despite this seemingly easier route to deal with a drug charge, the drug court system is still not perfect. "The issue is that when you're in a traditional courtroom, you understand what your rights are," said Bellone. "There is a process…when you're in a drug court, those processes are out the window."
Leave a Comment
About the Writer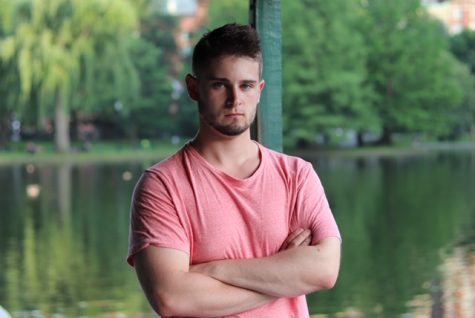 Ryan Arel, Former Senior Staff
Vermont native Ryan Arel is a former Arts Editor and former Opinion Editor for The Suffolk Journal. A print journalism major and economics minor, Ryan aspires to become a versatile writer who can cover any story of any topic that is worth telling.

Passionate about sports, photography, and history, Ryan also hopes to write and research in a way that makes complex issues easier for readers, and himself, to understand.

After leaving Suffolk, he hopes to work in the media field and stay in Boston, but he does not duck away at the idea of maybe traveling someday for work. When he isn't in the office, he can be found scream-typing homework assignments and stories, at the gym, watching "The Office" reruns or The Red Sox, his favorite sports team.

Follow Ryan on Twitter @ryanarel.