Kneeling: A form of protest
The American flag has long been a symbolic image of the United States, and a symbol that instills nationalist pride to many Americans; however, lately it has been deemed a symbol of the nation's faults as well.
Colin Kaepernick, a former quarterback for the San Francisco 49'ers, set a precedent for kneeling during the national anthem as a form of protest last year during a preseason game. The anthem was first sang at the 1918 World Series between the Chicago Cubs and the Boston Red Sox, according to the Washington Post. When Kaepernick first kneeled, the ambiguity regarding his intentions was very high, and he was subject to huge criticism and was maligned by the public and the media.
Eventually, he went on to tell the public he was protesting about racial discrimination when it came to law enforcement; "I am not going to stand up to show pride in a flag for a country that oppresses black people and people of color," Kaepernick said to reporters last year.
The 49'ers had backed the quarterback and said, "In respecting such American principles as freedom of religion and freedom of expression, we recognize the right of an individual to choose and participate, or not, in our celebration of the national anthem."
A common argument that has manifested in the middle of all this controversy is that players who kneel are disrespecting veterans. As a society, we must acknowledge that this is a legitimate reason to want to show contempt toward those players who kneel during the anthem, but we must not forget that the flag does not represent only what our veterans do for the nation. The American flag represents those who have fallen in our defense, but it also represents our history and all that our country stands for. The notion that players and coaches advocating for or directly participating in this practice are indecent human beings who disrespect veterans is shortsighted given this reality.
As the 2016 season went on, more players followed suit, and this season players have continued this practice as a form of protest. The current controversy regarding President Donald Trump's tweets toward the NFL and its players has instilled an upsurge in player opposition toward the president, amongst the general public and players themselves. Between Sept. 22 and Sept. 26 of this year, the president tweeted more than ten times regarding the protest, calling on Roger Goodell, the current NFL Commissioner, to "Tell them to stand!" in a tweet on Sept. 23. The surge went so far as to encourage players to wear or hold T-shirts on Sept. 24 that read "#IMWITHKAP" in support of Colin Kaepernick on the front.
Ever since, the media has jumped on the issue, even though it really is not new or worth the hype that it has received, and has been on every platform possible. The freedom of expression that Americans hold close to them remains true, even in a setting where famous people such as professional athletes are subject to the criticism of millions of people. Just because some people find it distasteful does not mean it is not protected under law. Over coverage, mass discussion, and the public uproar has made the kneeling a much larger issue than it deserves to be, causing people to feel very passionately on both sides.
It is possible to protest something such as the flag that represents a country and its issues, while still only trying to bring attention to a small part of it. For example, a teacher who goes on strike against their institution does not protest the whole school, but merely a single shortcoming that cannot be ignored.
It is very easy to throw other variables into the equation to make it less justifiably to kneel, but we have defined from Kaepernick and the discussions as a nation that followed the initial kneeling that this form of protest is geared toward policy brutality and racial injustice, and nothing more. It is not worth the constant coverage and constant discussion. Since we've defined what this form of protest means to the NFL, the public cannot fixate on the fact that the flag stands for veterans' service and their service alone, because it stands for more than just that.
In a CNN article published on Sept. 28, Philadelphia Eagles safety Malcolm Jenkins spoke about the issue.
"This is us, as concerned citizens, trying to play our role in a bigger conversation about race in America, a bigger conversation about our criminal justice system, and our law enforcement," said Jenkins. "We're not anti-police. Many of us have worked hand-in-hand with law enforcement to figure out ways to really move us forward in a better direction, to re-instill trust in our law enforcement and to really hold that accountability and transparency that our communities are looking for."
While there is an argument to be made that there may be a more appropriate way for NFL players to advocate for the ousting of police brutality, on a pragmatic level, they are allowed to do it given the first constitutional amendment ratified more than two centuries ago, and that the NFL has no explicit laws prohibiting it.
Trump has not helped the cause, and with his bestowing of more divisive tweets, more players have come forward. In fact, three full teams boycotted the anthem, except for Army veteran Alejandro Villanueva who plays for Pittsburgh, in response to Trump's tweets according to Sports Illustrated. Goodell stated, "I'm proud of our league."
Kneeling for the national anthem should not have created such a controversy. It's time to start looking at the intent behind the action, not the action itself. The public should learn to respect one another's decisions so long as there are not ill-intentions behind whether or not someone stands, and instead of maligning players for speaking out, it's time for the U.S. to take actions to address and inform the general population on the issue of police brutality and racial discrimination, and the public to stop drawing conclusions about players as people from it. Only then will we see all players standing once again.
Leave a Comment
About the Contributor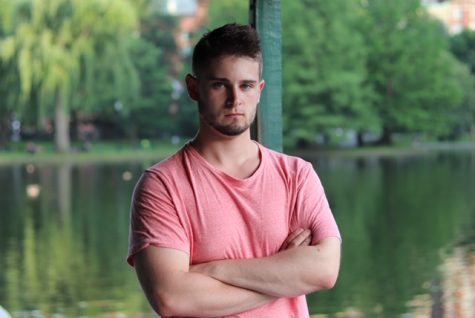 Ryan Arel, Former Senior Staff
Vermont native Ryan Arel is a former Arts Editor and former Opinion Editor for The Suffolk Journal. A print journalism major and economics minor, Ryan aspires to become a versatile writer who can cover any story of any topic that is worth telling.

Passionate about sports, photography, and history, Ryan also hopes to write and research in a way that makes complex issues easier for readers, and himself, to understand.

After leaving Suffolk, he hopes to work in the media field and stay in Boston, but he does not duck away at the idea of maybe traveling someday for work. When he isn't in the office, he can be found scream-typing homework assignments and stories, at the gym, watching "The Office" reruns or The Red Sox, his favorite sports team.

Follow Ryan on Twitter @ryanarel.