First down for Suffolk flag football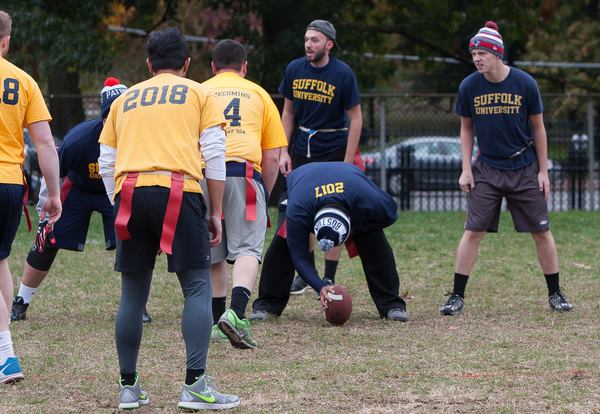 The Suffolk University Co-Ed Intramural Flag Football League, the school's most popular intramural sport, according to Athletic Director Cary McConnell, will kick-off full swing in early October.
According to a Chicago Tribune article published in 2016, flag football is a growing sport in the United States by and large.
Given that Suffolk University does not have a varsity tackle football team, intramural flag football has provided an opportunity for students to participate in a team sport.
"It's the same fundamentals of the game without tackling," said junior assistant captain Chris Parnagian who plays cornerback and wide receiver.
Suffolk intramurals have consisted of intramural flag football, basketball, and one day tournaments of 3-on-3, said Intramural Sports Director Will Feldman to The Suffolk Journal in a recent interview, and are open to all undergraduate students to participate.
The first scheduled game was supposed to be Thursday, Sept. 21, but was cancelled. The regular season games will take place on Tuesdays and Thursdays during activities period in October, and playoffs will begin in November. The games will be played at the Boston Common Baseball field, and the season will run six to eight weeks, according to Feldman. However, a game will be hosted on Oct. 14 during Suffolk Weekend for students. The class of 2019 and 2021 will play on one team, and 2018 and 2020 will play on another, with 10 students per class each.
Students who are involved in varsity sports are often left struggling to balance their schedule with their athletic, academic and personal commitments.
"Intramurals allows students to still participate in athletic activities without having to make the time commitments that come with participating on a varsity team," said Feldman.
Intramurals can be attractive for students who are looking to increase their athletic involvement, even if they had never played a sport before.
"I wouldn't even compare it at all to a [National Collegiate Athletic Association] contact sport," said Parnagian. "A few bruises, a couple scratches, maybe a ripped shirt but at the end of the day you gain a sense of family and make life long memories with great people."
Students are drawn to intramurals at Suffolk and other institutions because these recreational sports allow them to be a part of a team, without the strenuous workload a varsity sport can levy. It is an opportunity for students who do not have the time or desire to fully commit to the rigorous schedule of a collegiate athlete but still desire a team dynamic that being on a sports team entails. Parnagian said he enjoys the "camaraderie."
"Not only does [intramurals] provide students with a fun way to get exercise, but it also is a great way to meet new people and feel connected with the university," said Feldman.
Freshman baseball player Nik SanAntonio said being a varsity student athlete is, "a challenge because it tests how responsible the athlete is. It all comes down to how well one can handle pressure of succeeding in a classroom, on the field, or in the weight room."
This year there is a respectable number of students projected to participate in flag football.
"We expect to see large numbers of students taking part this year," said Feldman. "We currently have three teams signed up for this season. Teams are made up of 7-10 players. Students create their own teams, and a designated captain registers the team."
The teams compete with seven players on the field, on offense and defense, at any given time.
The next game will take place Thursday, Sept. 28.
Leave a Comment
About the Contributor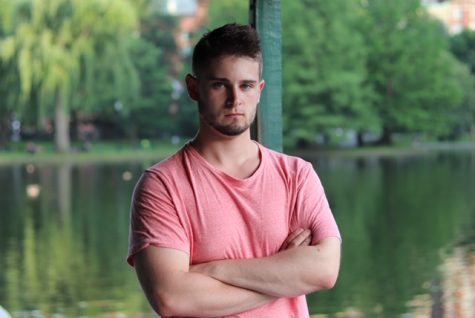 Ryan Arel, Former Senior Staff
Vermont native Ryan Arel is a former Arts Editor and former Opinion Editor for The Suffolk Journal. A print journalism major and economics minor, Ryan aspires to become a versatile writer who can cover any story of any topic that is worth telling.

Passionate about sports, photography, and history, Ryan also hopes to write and research in a way that makes complex issues easier for readers, and himself, to understand.

After leaving Suffolk, he hopes to work in the media field and stay in Boston, but he does not duck away at the idea of maybe traveling someday for work. When he isn't in the office, he can be found scream-typing homework assignments and stories, at the gym, watching "The Office" reruns or The Red Sox, his favorite sports team.

Follow Ryan on Twitter @ryanarel.