Armageddon in 140 characters or less
President Donald Trump's recent verbal exchanges with North Korean Dictator Kim Jong Un have driven North Korea closer to initiating nuclear warfare against the United States and essentially starting what could soon become World War III. North Korea's rapidly expanding nuclear arsenal has evolved into an increasingly dangerous threat not only for the U.S., but also for its allies. Trump's antagonizing threats and Kim Jong Un's derogatory backlash have made things personal stimulating exponentially developing fear throughout the U.S.
"Trump should not make this personal," said International Relations Assistant Professor Weiqi Zhang. "When dealing with another international leader, it's never a good idea to make things personal; this shows that Trump is inexperienced."
During his first speech at the United Nations last Tuesday, Trump stated that the U.S. would "totally destroy" North Korea if they attempted to fire nuclear missiles at the U.S. or its allies, according to The Washington Post. In response, North Korean dictator Kim Jong Un called Trump a "frightened dog" and a "mentally deranged U.S. dotard."
The war of the words continued this past weekend when Trump tweeted about Kim Jong Un referring to him as a "madman" and a "Little Rocket Man." Additionally, Trump stated that if these nuclear threats and insults continue, "they won't be around much longer." North Korean Foreign Minister Ri Yong Ho later stated Trump's threats are enough to constitute a declaration of war between the U.S. and North Korea, according to The Guardian.
"This declaring war story is not a new one," said Former ambassador from Germany to North Korea and Suffolk University Visiting Professor Fredrich Lohr. North Korea has been known to make threats declaring war in the past without following through.
"There was a similar situation in 2013 when North Korea was making threats to declare war and conducting nuclear tests," said Lohr. However, this situation is different. "The North Korean's have a new missile that may be able to shoot U.S. airplanes down in international waters," Lohr said.
North Korea has been conducting nuclear tests for almost a year now. The communist regime has been putting all of their spending toward building their arsenal, at the expense of the North Korean citizens. Starting in February, North Korea has conducted 14 ballistic missile tests, according to ABC News.
Their first successful missile launch traveled 310 miles and landed in the Sea of Japan. Since their first launch, North Korea has been pushing the envelope with their nuclear tests. They began launching intercontinental ballistic missiles (ICBMs), traveling roughly 2,300 miles into space during this past July. According to military experts, if the trajectories of these missiles are adjusted to a particular angle, it is believed that they could potentially strike Washington, D.C. or New York, according to ABC News.
"The North Koreans follow a principle that is not unknown to the president," said Lohr. "If you give me the perception of attacking, then I'll hit back twice as hard." Lohr suggestsed that since both Trump and Kim Jong Un are inexperienced leaders, they are making these aggressive threats back and forth to each other in order to show off their power, without the intention of attacking one another.
The U.S. is still in the process of trying to articulate the legitimacy of these threats. According to White House Press Secretary Sarah Huckabee Sanders, the assumption that the U.S. is provoking war with North Korea is "absurd," according to The Guardian.
"Our goal is still the same," said Huckabee Sanders. "We continue to seek the denuclearization of the Korean peninsula." While the goal of the U.S. may not be to engage in nuclear warfare with North Korea, it is important for Trump to gain awareness of the power behind the statements, even the tweets he makes as the U.S. president and particularly how a country as unstable as North Korea can interpret those statements.
"The world should forget about total denuclearization in North Korea because it's not going to happen," said Zhang. "Based on what happened to Saddam Hussein a few years ago, it's irrational for them to give up their nukes. We should accept that North Korea is a nuclear capable state and then work harder on how to deal with it."
"Kim Jong Un's response to Trump is unrealistic," said Zhang. "The escalation of these threats is mostly a negotiation tactic." Zhang explained that Trump and Kim Jong Un are engaging in "The Chicken Game."
"They are behaving in a crazy way because they are trying to force the other side to back off," said Zhang. "There isn't a realistic level of conflict here; no one wants another war." Ultimately, the idea of another war is unrealistic because North Korea will probably lose, according to Zhang.
"North Korea wants to have their regime recognized as legitimate," said Lohr. "The U.S. has difficulties recognizing their regime as legitimate." Since North Korea is still a communist regime, the U.S. feels that denuclearization of the nation is best way to prevent nuclear warfare. However, it is possible that throwing around war threats is Kim Jong Un's way of moving closer to negotiation with the U.S. in hopes of achieving his goal of getting North Korea recognized as a legitimate communist regime.
About the Contributor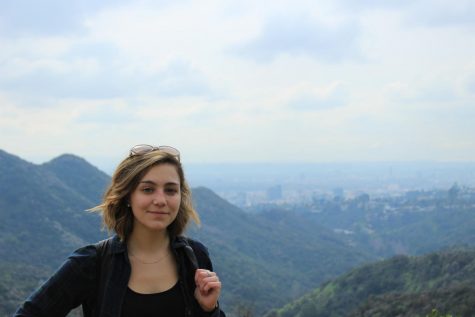 Amy Koczera, World News Editor | she/her
Amy has been writing for The Suffolk Journal since fall 2016. In addition to being the World News Editor, she is also the treasurer of the Suffolk Jazz Band, a Teaching Assistant, Resident Assistant, a member of The Journey program, and a Project Leader for the Center for Community Engagement. Amy is originally from Dartmouth, MA and studies Broadcast Journalism with a minor in Philosophy. When she's not in the Journal office, you can find her at the gym, the Esplanade or walking around campus wearing a backpack that's twice her size.
Follow Amy on Twitter
@AmyKoczera