The Suffolk University softball team slid themselves into the Great Northeast Athletic Conference (GNAC) Championship game for the first time since 2013, making it the Lady Rams fifth-ever trip.
Seeded third in the tournament, Suffolk faced the number one ranked Johnson and Wales University in the GNAC Championship on May 7. The Rams needed to defeat the Wildcats twice in order to obtain the GNAC title.
Suffolk came out on top in the first game with a 3-2 win at Scotts Miracle-Gro Athletic Complex in Providence, RI., which forced the two teams into a winner-takes- all final championship game. In their first ever if-necessary league title contest, Suffolk fell 15-5 to Johnson and Wales, allowing the Wildcats to capture the 2017 GNAC softball title.
The Lady Rams finished their season with an overall 29-17 record and 16-6 conference record. In the total 46 games played, Suffolk had a total of 270 runs scored and 39 home runs.
Suffolk softball had six players recognized with All-GNAC Honors at the conclusion of this season, and two ladies earned a spot on the National Fastpitch Coaches Association (NFCA) first-team.
"The team worked really hard to find ways to be successful together and were able to make adjustments throughout the season that led us to the GNAC Championship," said Head Coach Jaclyn Davis in an interview with The Suffolk Journal via email. "I am so proud of the work that they put in and the effort they gave in that final stretch. They truly left everything on the field."
Rising junior and designated hitter, Jill Pulek, found herself a back-to-back member of the All-NFCA first-team. Pulek's spot marked the first time a Ram earned a back-to-back first-team honor since Erin McAndrews in 2013 and 2014.
"I wanted to have an even better season than last year, but I was told that it would be hard to even accomplish what I did last year," said Pulek in an interview with The Journal. "I think that I did have a better season and it feels really good to be picked as one of the best in the region."
Rising senior Delaney Sylvester was the other Lady Ram to be honored with a spot on the NFCA first-team. Since her freshman year, she has been a recurring name on the all-region roster, but this was Sylvester's first-team honor.
"I am happy to have received this honor, but I just plan to keep playing how I have been playing for the past three years for my upcoming senior season," said Sylvester in an interview with The Journal. "I plan to keep producing [runs batted in,] putting bunts down when needed and being a leader behind the plate for my team."
While in every starting lineup behind the plate, Sylvester was a two-time GNAC Corvias Player of the Week and had a fielding percentage of .922. She also brought in 39 runs and scored 26 for the Lady Rams this season.
"It is a great honor, as [Pulek and Sylvester] have been recognized by coaches within and outside of our conference based on their performances this season," said Davis. "Both [Sylvester] and [Pulek] have been consistently recognized throughout their careers here and have remained humble and consistent for their teams and I am most proud of that. I am proud to be their coach and proud to play a small role in helping them manage the recognition and continue to be successful."
As their season concluded, the Lady Rams did not believe they could have done anything differently in order to change the outcome of their final game against Johnson and Wales. They plan on moving forward from it and will work "extremely hard" in order to generate team success.
"We plan to build upon the successes that we had this year and the foundation that we have created over the last few seasons," said Davis. "I truly believe that if we work hard and come together as a team, we have all of the necessary tools to win a GNAC Championship."
The team graduated two seniors at the end of the season, but look to gain six recruited incoming freshman. Coach Davis emphasized the importance of the girls resting in order to prepare for next season. She explained how important it will be for the team to take time off from the diamond in order to avoid "being burnt out." She hopes that the time off will help to generate a strong team foundation by the time they reunite at the start of the new school year in Sept.
"We fought hard, we competed with our biggest competition and we gave it everything that we had," said Davis.
Leave a Comment
About the Writer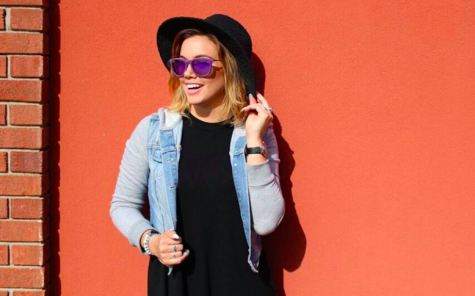 Brooke Patterson, Past Sports Editor
As a senior majoring in Journalism Print/Web, Brooke Patterson strives to not only bring a positive light to her stories, but also those around her. Despite the fact that her sports career has ended, Patterson remains involved with her love for athletics through The Suffolk Journal as the Sports Editor. She is currently exploring life in the city of Boston and will never hesitate to stop to pet a dog as they walk by her. Although Boston will forever be her home, Patterson hopes to explore and use her degree in other cities, such as New York and Los Angeles.