Japanese Student Association recognized for encouraging diversity
Whether it's planning a traditional tea ceremony or organizing an educational seminar, the Suffolk University Japanese Student Association (SUJSA) is dedicated to spreading Japanese culture throughout the Suffolk community. In recognition of their countless hours dedicated to SUJSA, the association has received the Global Thinking Cornerstone Award for the second year in a row.
The Global Thinking Cornerstone Award is presented to students and organizations that have made a significant, diverse impact on the Suffolk community, according to SUJSA incoming
President and senior Rina Hirate. As a strong-willed, student-run organization that embraces all aspects of diversity, SUJSA is dedicated to spreading their unique Asian identity throughout campus.
Diversity is a prominent facet of Suffolk's reputation as a university. Hirate explained that SUJSA enjoys doing their part to contribute to diversifying the Suffolk community. Despite all the time that classes may consume, Hirate feels that SUJSA board members are driven to make SUJSA successful purely because of their passion for Japanese culture.
"Japanese culture is not only about anime or comics," said Hirate in a recent interview with The Suffolk Journal. "Japan has a lot of wonderful cultures which we would like to share."
According to Hirate, SUJSA hosts cultural events such as a traditional Japanese Tea Ceremony with guests from Urasenke Boston, or a movie night exploring the depths of Japanese media, SUJSA to draw in various students from all kinds of different backgrounds – usually having a crowd of at least 60 at each of their events.
Not only does SUJSA embrace Japanese culture, but they also advocate and co-sponsor events for other international clubs on campus. For example, SUJSA supported Suffolk's Korean Culture Club's recent "Running Man" event. Just by scrolling through SUJSA's facebook page, you can see all their involvement and support for other clubs on campus. SUJSA also co-sponsored Suffolk's International Student Association's Newport Trip in April.
SUJSA looks forward to their annual Japanese Culture Night in the Somerset Cafe, usually held in February. At culture night, attendees look forward to learning more about the Japanese lifestyle and games as well as getting to try a variety of Japanese foods.
"Our plan is to keep events which we got good feedback from last academic year," said Hirate. She explained that in the coming year, SUJSA plans to collaborate with other international clubs. "We've been able to make many successful events hosted by JSA, but we haven't created a big event with other clubs."
Hirate wants to make events fun and inclusive for all cultures.
Outgoing SUJSA President Kenichi Ozeki's efforts within the association allowed SUJSA's popularity and overall campus presence to increase drastically. "Every year more and more students join JSA," said Hirate. The events SUJSA held this past year not only attempted to entertain those who attended, but they also provided a memorable, hands on experience of Japanese culture by incorporating Matsuri, Daruma-san ga Koronda card games at their events, as well as traditional food.
The club's popularity has grown tremendously over the past several years. This year's Global Thinking Cornerstone Award was awarded directly to Ozeki in appreciation for all his hard work.
"I can't count how much time I dedicated to JSA," said Ozeki, "Our association is so diversified. I've learned that so many Suffolk students are interested in Japanese culture."
SUJSA aspires to hold an Asian Culture Festival with some of the other culture clubs to help promote diversity at Suffolk. They said they are looking forward to planning said event for next year.
As a result of their dedication to sharing Japanese culture, SUJSA has grown larger and larger each year. "We are so happy because it means that students recognize our club," said Hirate. She finds that one of the most valuable things about being a part of Suffolk's diverse campus is getting to share their culture with such large group of appreciative people.
About the Writer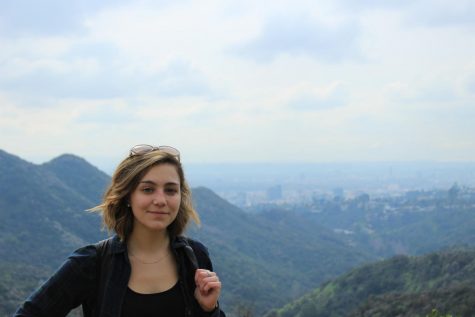 Amy Koczera, World News Editor | she/her
Amy has been writing for The Suffolk Journal since fall 2016. In addition to being the World News Editor, she is also the treasurer of the Suffolk Jazz Band, a Teaching Assistant, Resident Assistant, a member of The Journey program, and a Project Leader for the Center for Community Engagement. Amy is originally from Dartmouth, MA and studies Broadcast Journalism with a minor in Philosophy. When she's not in the Journal office, you can find her at the gym, the Esplanade or walking around campus wearing a backpack that's twice her size.
Follow Amy on Twitter
@AmyKoczera