The Good, the bad and the vocal: Stigma around rape culture
Members of the Suffolk University community gathered to break barriers on the stigma of rape culture, sexual issues and sexuality in the Somerset Café on Thursday night. According to the organizer, this was one of the only times a student organized an event to further open up the conversation regarding sexual assault, encompassing many other sexual issues and ideas as well.
Nikki Ellis, junior public relations major at Suffolk University, organized, planned and hosted the event almost completely by herself, "The Good, The Bad and The Vocal," to highlight April, which is Sexual Assault Awareness Month. She said she was afraid that she hadn't done enough advertising for the event or correctly expressed her goals.
Attendees shared personal violations but also words of empowerment, coping strategies and offered any thoughts they had revolving around sexual ideas.
"I was really nervous but I knew what I wanted to achieve," said Ellis.
Six Suffolk students, including Ellis, voluntarily spoke about personal experiences involving sexual assault and violence, stigmas surrounding sexuality and the education surrounding it. Three students expressed their struggles through poetry, while others simply spoke of their frustrations.
"A safe, inclusive night for the Suffolk community to talk about sexual issues," read a poster advertising the event. "Whether they're good or bad, it's time we got talking."
During the event, there were student organizations and university departments such as Counseling Health and Wellness Center (CHW) and the Office of Diversity Services (ODS), who tabled so students had a better idea of what Suffolk has to offer both in regard to sexual assault, and support in general.
Sergeant Jameson Yee from the Suffolk University Police Department (SUPD) spoke at the event, and highlightedthe importance of feeling safe at Suffolk University through resources that SUPD offers including the LiveSafe mobile application and the RAD programs for both men and women.
"It was a unique event because it was completely student organized and ran," said senior graphic design major Rachel Barouch.
A representative from the Boston Area Rape Crisis Center (BARCC) that came to speak, Jesse Lowell, introduced herself to the crowd and talked about the counseling services that BARCC offers in Spanish, English and Haitian Creole, the legal advocacy, support groups and trainings that are offered.
"It was great to hear people get up and talk about their experiences to bring to light that [sexual assault] should be talked about more and not shied away from," said sophomore sociology major Ashlee Backhus.
Ellis explained in an interview with a Journal reporter recently that the reasoning behind this event was to create an all-inclusive environment where people were comfortable to either talk and share their thoughts, or choose not to. The choice was the most important part.
Ellis said she hopes to continue with this event next year to gain more of an audience that will engage and stay aware. She believes that the more people who talk about these topics, the more normalized an open discussion will be.
The rape hotline for BARCC: 1-800-841-8371
Leave a Comment
About the Writer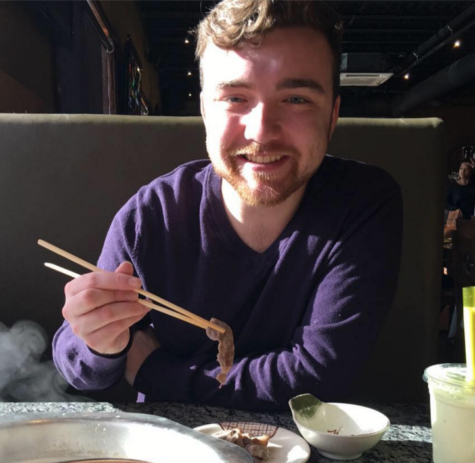 Patrick Holmes, Former Opinion Editor and Managing Editor
An advocate for human rights, Patrick Holmes aspires to help people through writing and to create that much talked about difference in the world. Through education, he sees a world that can change for the better and unite to actually be for the people. He believes every story is worth telling as long as it is the truest truth.
Holmes earned a Public Relations degree in the fall of 2018. Alongside this journey, he hopes to keep creating lasting friendships and helping people. His career path is the start to change.