Seniors serve up final tennis season
As a solo four-year tennis program senior, second-year captain Francesco Saia had a slight heartbreak heading into this season knowing it would be his final one with the Rams.
Suffolk University's tennis team currently holds a losing record of 2-7, but look toward the Great Northeast Athletic Conference (GNAC) Semifinal game at Centre Court against Johnson & Wales University on April 29.
"You just have take a deep breath and say this is my final season, give everything I have got and do everything the best I can," said Saia in an interview with The Suffolk Journal on Monday.
Senior co-captain Jacob Duggan, a finance major, is also in his last season with the men's tennis team. Duggan joined the men's tennis team his sophomore year, after being convinced by Saia, and has been a player on the court for the Rams for the past three years. Duggan has a two match win streak this season with an overall personal record of 3-4.
"This being my last season, I am sad that I won't get to play tennis for Suffolk anymore, but am glad that I get to spend my last season with such a great group of guys," said Duggan in an interview with The Journal on Tuesday night. "As a team, we've come a long way this season, and I'm really proud of how much we have improved."
Saia, a finance major who has been playing tennis since he was seven years old, went 7-1 his sophomore year in singles at the three-fourth position and currently holds an overall personal record of 2-6. Every year since Saia has been a Ram, he has been awarded by the GNAC for second team doubles.
The senior duo contributed to the Rams 9-0 sweep over Lesley University on April 20 when they were teamed up in a doubles match against Lesley athletes, Niko Marcolini and Beowulf Urban. Saia and Duggan defeated Marcolini and Urban 8-0.
"I, 100 percent have developed over the past four years," said Saia. "You can't just play your own style anymore, you have to learn how adapt to the other players and open the court to all different types of players."
Saia had the opportunity at Suffolk to try different playing styles from European players to Asian players and even some South American players, which differs from tennis in the United States. For instance, in other countries the surfaces of courts vary compared to the U.S, where tennis is played on a hard-surfaced court.
"They taught me all different types of styles of tennis from the way they were brought up how to play tennis and incorporated it into my game, making me not only a better player with new various skills, but also making the whole team better with new techniques and skills that we were never fully familiar with," said Saia.
Although when Saia was younger he did not like to play tennis, he eventually grew to love it. His favorite part about playing tennis at Suffolk has been hanging out with his team and "sharing laughs and good times together."
Being an active member on the team, Saia has made a lot of memories with his new teammates each year. He enjoyed experiencing the diversity the tennis team has brought him.
"My freshman year I was the only American kid on the team," said Saia. "So just learning from other types of people from different countries, how they play tennis and learning how to speak Spanish was fun."
Upon graduation, Saia looks for a future in finance and hopes to further his career in New York City. Although he will not be pursuing tennis any further, he will always play in order to prevent himself from becoming "washed up."
"Tennis will always be incorporated in my life no matter what," said Saia.
Saia wants his team to be remembered as the ones that kept striving for better, no matter how difficult things were. At the end of the day, Saia wants the outcome of the season to be more than the team could have imagined.
"All of my experiences I have learned from my past three years, this fourth one I just want to put it out on the court and let everybody know what I have learned and hopefully the team can carry it on," said Saia.
Leave a Comment
About the Contributor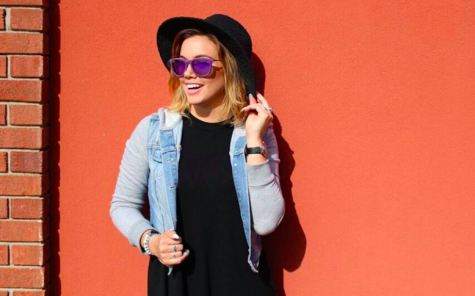 Brooke Patterson, Past Sports Editor
As a senior majoring in Journalism Print/Web, Brooke Patterson strives to not only bring a positive light to her stories, but also those around her. Despite the fact that her sports career has ended, Patterson remains involved with her love for athletics through The Suffolk Journal as the Sports Editor. She is currently exploring life in the city of Boston and will never hesitate to stop to pet a dog as they walk by her. Although Boston will forever be her home, Patterson hopes to explore and use her degree in other cities, such as New York and Los Angeles.