SUMUN strives for success in New York
Since February, Suffolk University's Model United Nations (SUMUN) club has been honing their skills in preparation of their competition against some of their brightest peers. This week the team is attending their third conference of the year, competing at the National Model United Nations Conference in New York City.
Preparations began in February after the team returned from a conference at Harvard University. For many, the Harvard convention was a completely new experience. Yazeed Abu-Ghazaleh, the soon-to-be-inaugurated president-elect, was proud of their performance, despite having not competed in this type of conference in a number of years.
"I think our team did very well in adapting to the new procedures, considering the Harvard rules were different from what we had done in the past," said Abu-Ghazaleh.
Senior government major Ruslan Gorsky also attended the Harvard convention, where Suffolk University represented the Republic of Cuba.
"The whole environment was high paced, and leaves no room for error, instead prompting delegations to think swiftly on their feet and make leadership decisions whilst maintaining diplomatic ties with all relevant parties," he said in a statement to the Suffolk Journal. "It was a learning experience that was at times fascinating and exhilarating and at other times frustrating and downright exhausting."
Prior to the New York conference, the SUMUN team worked on strengthening specific skills that would enable them to be successful at these conferences. Such skills included public speaking, parliamentary procedure, and resolution writing.
"Our goal is and always has been to be the most well-rounded candidates that we can be, by honoring our delegated countries political position, and whilst still being persuasive with our public presence and our interpersonal skills," said Gorsky.
The skills students acquire by being a part of SUMUN are not specific to any one particular major, and can be applied to a vast expanse of professions. "I think that as a business student, joining SUMUN has made me not only more confident, and more capable, but frankly a more competent business student and hopefully this will carry-on to make me a better businessman," said Abu-Ghazaleh in an interview with The Suffolk Journal.
Abu-Ghazaleh has high hopes for the future of SUMUN. "Our long-term goals are focused on growth, and growth in every sense of the word. Growth in the number of members, growth in the quality of members, and the intrinsic growth within each member. Essentially we hope to expand our network among other MUN clubs around Boston, and potentially the rest of the Northeast," said Abu-Ghazaleh in an interview with The Suffolk Journal.
With students so hard-working and ambitious, there is no limit to what SUMUN will be able to accomplish in the future. "I learned that there really is no cap to what we can achieve," said Abu-Ghazaleh, "Every limitation we set for ourselves is nothing more than a glass ceiling and every glass ceiling can be broken."
Leave a Comment
About the Writer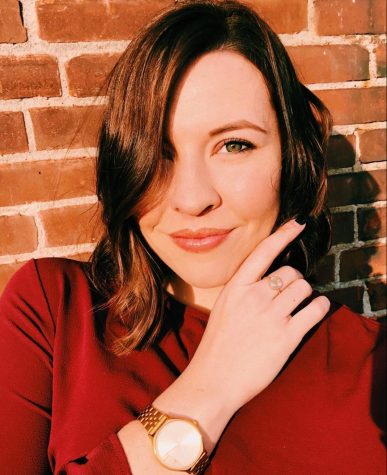 Haley Clegg, Editor-In-Chief | she/her
Haley is a senior majoring in broadcast journalism. Aside from writing, her main passions are photography and traveling. When she isn't in the Journal office, she is most likely to be found exploring Boston with her camera in one hand and a coffee in the other. After college, Haley hopes to be an investigative reporter or an international correspondent.
Follow Haley on Twitter
@HaleyClegg98