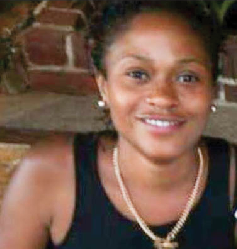 Life, more often than not, does not go as planned, no matter how prepared we think we may be for the unexpected challenges that lay in our paths. Some challenges are more trying on our hearts than others, but it is in the way we respond to them that really shows us who we are as individuals.
In February of 2009, Initta Andrews began her career with Sodexo at Suffolk University. Fellow coworker Alejandrina Lopez, who Andrews affectionately nicknamed Alex, had planned a trip for the two women to travel to New York City together this June. As life would have it, Andrews passed away unexpectedly on Sunday, April 9th before their trip.
Even with the difficulty in speaking about Andrews, Lopez was determined to pass on the positive memories she shared with her friend, despite having only worked together for one short year.
"We became so close in such a short time, it was unbelievable, it was like little sisters. We joked around, we'd sing at the end of the night as we were closing, we'd put music on and she'd be singing, it was just beautiful. I loved to see her happy like that, to see her in wonderland" said Lopez.
Many of her coworkers will remember her for her years of dedication to her job. "I've known her for about two and a half years. She was very devoted to work and keeping the place clean" said fellow Sodexo worker Lars Bower.
Michael Nowak, the chef manager in the 150 Tremont dining hall will remember her for her work ethic. "She was always informative with all the students, she always helped to get our promotions out. She kept the dining room cleaner than any other person. She was always out here running back and forth, always very thorough in everything she did" he said.
For some, Andrews was more than just a coworker. "Initta was like a daughter, like a niece, like a best friend" said Darrell Young, smiling at his memories with her. "She was such a high spirited person. Now I don't know how high spirited she was outside of work, but when she walked through those doors, it was just uplifting."
Young had nothing but positive memories to share about Andrews. "The days that I'd work and she'd work, I would just look forward to seeing her, because I knew she was just going to say something that would make my day go better than I planned. She was a wonderful person, and she will be remembered for life. She touched my heart, I must say, she was the most beautiful person."
Diane Hairston, a fellow coworker who worked side by side with Andrews for several years was especially touched by the shining light that Andrews was.
"She was like my girl, all of us, she was our girl. She always came in and greeted us with a smile, no matter how she felt, she always gave us a smile. She would help anybody out who needed it. I just love her, I miss her, I'm going to miss her for a long time" said Hairston.
Andrews never missed an opportunity to make her coworkers smile. "I miss her hugs. She used to come right up to us and hug us" said Hairston.
Amy Shantzis will miss the sense of community that Andrews created among everyone that worked alongside her. "Initta was very very warm, she was super loving and kind and welcoming. She was always inviting people to go out, and kind of create a really big family environment within the building. It doesn't matter who you were, she would greet you as if she knew you her entire life."
Despite the passing of her friend, Lopez has decided to go ahead with the trip the pair had planned. She will travel to New York City, where she will bring a photograph of Andrews with her as a way to honor her dreams and to celebrate the life of her friend.